Topical calcineurin inhibitors show favorable therapeutic response in Vitiligo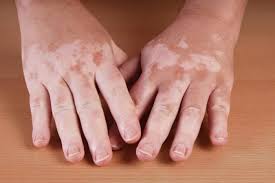 Treatment with topical calcineurin inhibitors (TCIs) both as a monotherapy and in combination with phototherapy, should be encouraged in patients with vitiligo -- is the bottom line of a recent study published in the journal JAMA Dermatology. Both the treatments (phototherapy and TCI) have synergistic effects.
Vitiligo is a disease that causes the loss of skin colour in blotches. It affects about 0.5% to 1% of the population and is associated with low self-esteem and social stigma.
"Topical calcineurin inhibitor monotherapy appears to produce a favourable therapeutic response, especially in children and in lesions on the face and neck. Therefore, TCI monotherapy is worth attempting when phototherapy is not available for the treatment of face and neck lesions, particularly in children," write the authors.
Considering the high recurrence rate of vitiligo, the additional proactive use of TCIs to maintain remission of vitiligo could be promising.
Topical calcineurin inhibitors including tacrolimus and pimecrolimus possess a dual mechanism of action for the treatment of vitiligo: immunosuppression and melanocyte induction.
TCIs are recommended as first-line treatments for limited forms of vitiligo, however, the efficacy of TCI monotherapy is often underestimated. Ji Hae Lee, Department of Dermatology, St Vincent's Hospital, College of Medicine, Seoul, Korea, and colleagues conducted the study to estimate the treatment responses to both TCI monotherapy and TCI in combination with phototherapy for vitiligo, based on relevant prospective studies, and to systematically review the mechanism of action of TCIs for vitiligo treatment.
For the purpose, the researchers conducted a comprehensive search of the database inception to August 6, 2018. The main keywords used were vitiligo, a topical calcineurin inhibitor, tacrolimus, pimecrolimus, and FK506.
Of 250 studies initially identified, the full texts of 102 articles were assessed for eligibility. A total of 56 studies were identified: 11 studies on the TCI mechanism, 36 studies on TCI monotherapy, 12 studies on TCI plus phototherapy, and 1 study on TCI maintenance therapy.
The primary outcomes were the rates of at least mild (≥25%), at least moderate (≥50%), and marked (≥75%) repigmentation responses to treatment. These rates were calculated by dividing the number of participants in an individual study who showed the corresponding repigmentation by the total number of participants who completed that study.
Also Read: Alemtuzumab may lead to Vitiligo in multiple sclerosis patients
Key findings of the study include:


In the 56 studies included in the analysis, 46 (1499 patients) were selected to evaluate treatment response.


For TCI monotherapy, an at least mild response was achieved in 55.0% of 560 patients in 21 studies, an at least moderate response in 38.5% of 619 patients in 23 studies, and a marked response in 18.1% of 520 patients in 19 studies after median treatment duration of 3 months (range, 2-7 months).


In the subgroup analyses, face and neck lesions showed an at least mild response in 73.1% of patients and a marked response in 35.4% of patients.


For TCI plus phototherapy, an at least mild response to TCI plus phototherapy was achieved in 89.5% of patients, and a marked response was achieved in 47.5% of patients.


Also Read: EDF Guidelines for Vitiligo Management
"The use of TCIs, both as a monotherapy and in combination with phototherapy, should be encouraged in patients with vitiligo, stresses the authors.
To read the complete study follow the link: doi:10.1001/jamadermatol.2019.0696