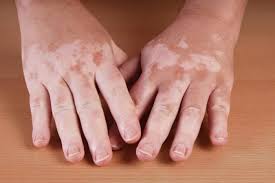 The aetiopathogenic mechanisms of vitiligo are still poorly understood, and this has held back progress in diagnosis and treatment. Up until now, treatment guidelines have existed at national levels, but no common European viewpoint has emerged. This guideline for the treatment of segmental and nonsegmental vitiligo has been developed by the members of the Vitiligo European Task Force and other colleagues. It summarizes evidence-based and expert-based recommendations (S1 level).
Expert recommendations
Topical Corticosteroids
In children and adults who need treatment, once daily application of potent TCS can be advised to patients with limited, extra-facial involvement for a period no longer than 3 months according to a continuous treatment scheme, or better according to a discontinuous scheme i.e. 15 days/month for 6 months with a strict assessment of response based on photographs.
Facial lesions can be treated as effectively and with lesser side-effects by TCI.
As potent TCS appear to be at least as effective as very potent TCS the first category should the first and safest choice.
Systemic absorption is a concern when large areas of skin, regions with a thin skin and children are treated for a prolonged time with potent steroids. The choice then would be for TCS with negligible systemic effects like mometasone furoate or methylprednisolone aceponate.
Topical immunomodulators 
Topical immunomodulators can be considered in adults and children with vitiligo as an alternative to topical steroids for new actively spreading lesions on thin skin.
The topical safety profile of TIMs is better compared to potent TCS especially concerning risks of skin atrophy.
Considering that data from double blind placebo controlled studies are limited,and that TIMs efficacy is not clearly demonstrated on other sites without occlusion, the use of TIMs should be restricted to selected areas, in priority the head and neck region.
Twice daily applications are recommended. The treatment should be prescribed initially for 6 months.
During this period of treatment moderate but daily sun exposure should be recommended. If effective, prolonged treatment (e.g. longer than 12 months) may be proposed, since side-effects of long-term use of TCI are reassuring in other conditions such as atopic dermatitis.
Photochemotherapies
(PUVA, KUVA)
Oral PUVA is nowadays used in adult patients with generalized vitiligo as a second line therapy.
Compared to NB UVB it has the disadvantage of lower efficacy and higher shortand long-term risks. As with NB UVB, 12 to 24 months of continuous therapy may be necessary to acquire maximal repigmentation.
For topical PUVA, psoralens should be formulated in creams at very low concentration. Oral KUVA has been largely abandoned due to significant liver toxicity. Topical khellin might be combined with artifical UVA irradiation or exposure to natural sunlight. However, randomized controlled studies assessing the efficacy of this approach are lacking.
NB-UVB and targeted phototherapies
NB UVB is indicated for generalized NSV. Total body treatment is suggested for lesions involving more than 15-20% of the body area. The total NB UVB has been also considered as treatment for active spreading vitiligo, even if limited supportive data are available.
Targeted phototherapies (laser and non laser) are indicated for localized vitiligo and in particular for small lesions of recent onset and childhood vitiligo, to avoid side effects due to total body irradiation with UVB, and in all cases where contraindications exist for total body irradiation with conventional NB UVB (risk for melanoma or non melanoma skin cancer, photo-aggravated disease, etc.).
There is as yet no consensus as to the optimum treatment duration of NB UVB or targeted phototherapy. Many therapists tend to stop irradiation if no repigmentation occurs withinthe first three months of treatment or in case of unsatisfactory response (less than 25%repigmentation) after 6 months of treatment.
Phototherapy is usually continued as long as there is ongoing repigmentation or over a maximum period of one to two years.Maintenance irradiation is not recommended but regular follow-up examinations are suggested for detecting relapse.
TCI and phototherapy:
There is good evidence that the combination of TCI and UV is effective and provides better results than the two treatments used alone. Although
increasing data suggest that the combination of UV and topical TCI is safe, long term data on carcinogenicity are still lacking.
Vitamin D analogues and phototherapy:
The use of vitamin D analogues in combination toUV is not recommended as the benefit of the combination therapy appears to be at bestvery limited
Phototherapy and other treatments: the antioxidant supply may act by restoring the intracellular redox status, intrinsically and UV-compromised. The association of phototherapy and oral antioxidants might be beneficial but the preliminary results have to be confirmed before such a combination can be recommended.
Phototherapy after surgery: there is now a good level of evidence that phototherapy (NB UVB or PUVA) should be used for 3 or 4 weeks after surgical procedures to enhance repigmentation.
For further reference log on to :
DOI: 10.1111/j.1365-2133.2012.11197.x