Alemtuzumab may lead to Vitiligo in multiple sclerosis patients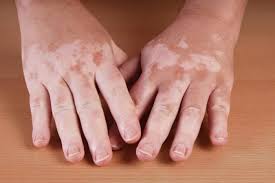 Alemtuzumab is a humanized monoclonal antibody which is an effective therapy for early relapsing-remitting MS, offering disability improvement at least to 5 years after treatment. But its use requires careful monitoring so that potentially serious side effects can be treated early and effectively.
In a retrospective case series including flow cytometric analyses and T-cell receptor (TCR) sequencing of peripheral blood, the authors have reported 3 patients with relapsing-remitting multiple sclerosis (RRMS) showing vitiligo after treatment with alemtuzumab.
The 3 cases represent a detailed description of vitiligo as a T-cell-mediated secondary autoimmune disease following alemtuzumab treatment. The prevailing concept of unleashed B-cell responses might therefore not cover all facets of alemtuzumab-related secondary autoimmunity. Mechanistic studies, especially on TCR repertoire, might help clarify the underlying mechanisms.
For more details click on the link: DOI: https://doi.org/10.1212/WNL.0000000000006648