SZC helps maintain potassium levels in hyperkalemia patients: HARMONIZE trial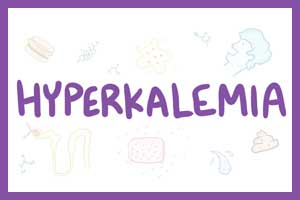 Delhi: Once-daily sodium zirconium cyclosilicate (SZC) treatment for up to 11 months helped in maintaining a normal concentration of potassium in hyperkalemia patients, according to findings from an 11-month open-label extension of HARMONIZE trial. Also, SZC was well tolerated, with no new safety signals.
The original study involved 248 patients with mild hyperkalemia. On randomization with SZC or placebo, it was seen that the drug returned potassium to normal and maintained those levels out to 4 weeks, within 48 hours.
Hyperkalemia results when the potassium level in the blood becomes higher than the normal. Potassium is a chemical that is critical to the function of nerve and muscle cells, including those in the heart. The risk of hyperkalemia increases significantly for patients with chronic kidney disease (CKD) and for those who take common medications for heart failure (HF), such as renin-angiotensin-aldosterone system (RAAS) inhibitors, which can increase potassium in the blood.
SZC is approved for the treatment of hyperkalemia in the United States and Europe. It works by selectively binding to potassium ions in the colon, reducing the absorption and promoting excretion.
The open-label extension (OLE) of the ­HARMONIZE study by Simon D. Roger, Renal Research, Gosford, NSW, Australia, and colleagues evaluated the efficacy and safety of SZC for ≤11 months.
In the extension study, 123 patients with measured potassium levels of 3.5-6.2 mmol/L, 48 of whom had previously been assigned to placebo, received a 5- to a 10-g dose of SZC once per day for up to 337 days. The median daily dose was 10 g, with a dose range of 2.5-15 g.
Read Also: Sodium polystyrene sulfonate used for hyperkalemia in CKD increases severe GI complications risk
Key findings of the study include:


Of 123 patients who entered the extension (mean serum K+ 4.8 mmol/L), 79 (64.2%) completed the study.


The median daily dose of SZC was 10 g (range 2.5–15 g).


The primary end-point was achieved by 88.3% of patients, and 100% achieved the secondary end-point.


SZC was well tolerated with no new safety concerns.


Most patients (83) were taking renin-angiotensin-aldosterone system inhibitors at baseline of the extension study; 78.3% continued a stable dose throughout the open-label phase, 8.4% increased the dose, and 3.6% discontinued.


Two-thirds of patients reported adverse events, most commonly gastrointestinal disorders (18.7%). Constipation was the most frequent (5.7%), followed by nausea, vomiting, and diarrhea (3.3% each).


Adverse events that occurred in 5% or more of participants included hypertension (12.2%), urinary tract infection (8.9%), and peripheral edema (8.1%). Hypertension severity was either mild (46.7%) or moderate (53.3%), and only one case was believed to be associated with the study medication.


Thirteen percent of participants reported a total of 17 SMQ edema events. Eleven of the 16 patients had baseline risk factors for edema, leading the authors to conclude that causality between SZC and edema could not be established.


Serious adverse events occurred in 19.5% of participants, and 4.9% of participants discontinued SZC as a result.


Read Also: FDA Approves Lokelma for Hyperkalemia
"In the HARMONIZE OLE, most patients maintained mean serum K+ within the normokalemic range for ≤11 months during ongoing SZC treatment," concluded the authors.
The study, "Efficacy and Safety of Sodium Zirconium Cyclosilicate for Treatment of Hyperkalemia: An 11-Month Open-Label Extension of HARMONIZE," is published in the American Journal of Nephrology.
Source : American Journal of Nephrology