................................ Advertisement ................................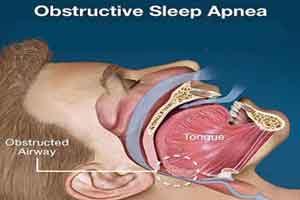 United Kingdom: Obstructive sleep apnea (OSA) patients are at higher risk of developing gout beyond the first year following the diagnosis compared with patients without OSA, finds a new study published in the journal Arthritis & Rheumatology.
Obstructive sleep apnea,OSA is a potentially serious sleep disorder. It causes breathing to repeatedly stop and start during sleep. This type of apnea occurs when the throat muscles intermittently relax and block the airway during sleep. A noticeable sign of obstructive sleep apnea is snoring.
Milica Blagojevic-Bucknall, Keele University in the United Kingdom, and colleagues conducted this retrospective cohort study to investigate whether people with OSA are more likely to develop gout, in the short and long-term, compared to those without OSA.
................................ Advertisement ................................
For the purpose, the research team used data from the U.K. Clinical Practice Research Datalink to identify 15,879 patients aged ≥18 years who received a diagnosis of OSA between 1990 and 2010, as well as 63,296 controls without OSA, matched on age, sex, and practice.
Also Read: Slow-Release morphine safe for some obstructive sleep apnea patients
................................ Advertisement ................................
Key Findings:
During a median follow-up of 5.8 years, 4.9 percent of patients with OSA and 2.6 percent of patients without OSA developed gout, yielding incidence rates of 7.83 and 4.03 per 1,000 person-years, respectively.
The adjusted hazard ratio was 1.42. The risk for developing gout among OSA patients was highest one to two years after the index date (hazard ratio, 1.64) compared with those without OSA, and this finding persisted among those who were overweight and obese.
The highest significant hazard ratio (2.02) for those with a normal body mass index was seen at two to five years after the index date.
Also Read: Gout patients unable to achieve uric acid targets at increased death risk
It's thought that intermittent oxygen deficiency due to OSA leads to overproduction of uric acid, which causes gout. "Sleep apnea is commonly treated with continuous positive airways pressure–or CPAP–therapy. Since CPAP treatment corrects low oxygen levels it might also be expected to reduce uric acid levels, which could possibly reduce the risk of developing gout or treat existing gout; however, further research is needed to investigate the effect of treatment with CPAP in people with gout," said Dr. Blagojevic-Bucknall.
For further reference log on to https://doi.org/10.1002/art.40662
Medha Baranwal joined Medical Dialogues as an Editor in 2018 for Speciality Medical Dialogues. She covers several medical specialties including Cardiac Sciences, Dentistry, Diabetes and Endo, Diagnostics, ENT, Gastroenterology, Neurosciences, and Radiology. She has completed her Bachelors in Biomedical Sciences from DU and then pursued Masters in Biotechnology from Amity University. She has a working experience of 5 years in the field of medical research writing, scientific writing, content writing, and content management. She can be contacted at medha@medicaldialogues.in. Contact no. 011-43720751
To know about our editorial team click here
................................ Advertisement ................................