Slow-Release morphine safe for some obstructive sleep apnea patients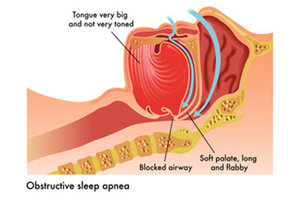 A new study finds that a 40-mg dose of slow-release morphine may be safe for non-severely obese patients with obstructive sleep apnea (OSA). This is contrary to the traditional thinking that OSA will be worsened by opioids, The study has been published in the BMJ Journal Thorax.
David Wang, Royal Prince Alfred Hospital in Camperdown, Australia, and colleagues conducted a randomized controlled trial to evaluate the effects of a common clinical dose of morphine on obstructive sleep apnea , and to identify clinical phenotype and genotype vulnerability to opioid-respiratory depression.
"Slow-release morphine did not worsen the OSA of the men in our study. For most of the men, there were no differences in breathing during sleep whether they received oral 40-mg slow-release morphine or placebo," said Dr. Wang.
"Our study also identified potential clinical phenotypes and genotypes that could predict how opioids may affect breathing during sleep," he told Reuters Health by email.
For the study, the research team enrolled 60 adult males with untreated OSA in a randomized, double-blind, crossover trial at one academic sleep laboratory. The participants' average age was 44.4 years, and they had an apnea-hypopnea index of 5 or more events/hour, a BMI of 40 kg/m2 or less, awake peripheral oxygen saturation (SpO2) over 90% and a nocturnal SpO2 nadir of 60% or more.
Patients were excluded if they had a significant sleep disorder, a creatinine clearance <60 mL/min, an abnormal lung function test, a history of CO2 retention, or a severe medical comorbidity, or if they were using continuous positive airway pressure (CPAP), were allergic to morphine, abused drugs, or were taking drugs with effects on the central nervous system.
Participants spent two sessions in a hospital-based academic sleep laboratory at least one week apart and received opaque capsules with either 40 mg controlled-release morphine first followed by placebo, or the reverse.
The patients took the dosage after an evening meal and did not have food or caffeine afterward. Later that night, ventilatory chemoreflexes and five-minute ventilation were measured while they were awake, rested and seated and overnight polysomnography was performed. That night and the next morning, blood samples were collected for plasma morphine and metabolite analysis and opioid genotyping.
Also Read: Obstructive sleep apnea linked with higher risk of gout
Key Findings:


Despite large variability between participants, 40 mg morphine did not significantly worsen sleep time with SpO2 <90% (T90) or apnea-hypopnea index, and the SpO2 nadir decreased by only 1.3%.


In patients with severe OSA, a lower baseline CO2 ventilatory-response threshold was linked with worsening T90, apnea-hypopnea index and oxygen-desaturation index with morphine use.


Patients with the OPRM1 genotype had varying morphine effects on awake ventilatory chemosensitivity and T90.


In 44 patients with an A/A OPRM1 genotype, T90 increased by 1.2% (P=0.10), but in 16 patients with an A/G OPRM1 genotype, T90 decreased by 1.7% (P=0.09).


in those with an OPRM1 A/A genotype, morphine did not alter hypercapnic ventilatory response slope (HCVR), but in the A/G patients, the drug significantly reduced HCVR by 0.90 L/min/mmHg.


"Despite no evidence from randomized controlled trials, current anesthesiology guidelines suggest that opioids worsen OSA severity," Dr. Wang said. "Underdosing perioperative OSA patients may cause them to suffer more pain."
But he also advised, "Our study did not include patients with obesity hypoventilation syndrome and was not in a perioperative setting where multiple drugs are used. In those situations, our findings should be interpreted cautiously."
"40 mg oral controlled-release morphine did not worsen OSA in men, challenging traditional thinking that OSA will be worsened by opioids. Individual opioid response in patients with OSA may relate to baseline CO2 response threshold and OPRM1 genotype," write the authors.
"Our study findings may pave the way for a precision medicine approach to avoid opioid-related risks," they concluded.
Source : With inputs from Thorax�