Gout patients unable to achieve uric acid targets at increased death risk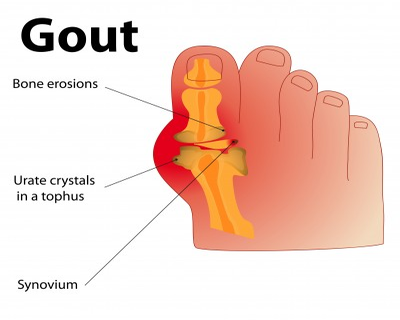 A new study presented at the American College of Rheumatology 2018 Annual Meeting reveals that patients with gout who fail to achieve optimal levels of serum uric acid (below 6 mg/dL) are at increased risk for death.
The findings show that the risk is more than twice higher in patients with serum uric acid levels of 6 mg/dL or higher than in those with levels below 6 mg/dL.
Read Also: Allopurinol dose escalation unlikely to improve survival in gout
According to Dr. Perez-Luiz, the lead author of the study, the new analysis showed that although a signal for developing severe gout remains, reaching serum urate therapeutic target is associated with lower mortality risk than being over the target.
The prospective cohort study included 1193 gout patients with a mean age of 60 years and mean disease duration of 6.8 years having at least one follow-up visit from 1992 to 2017. The mean SUA at baseline was 9.1 mg/dL, and 16.3% of patients had SUA levels of 6 mg/dL or higher despite treatment. During a mean follow-up period of 48 months, 158 patients died (13%). Another 286 patients (24%) were lost to follow-up.
The study found that the overall crude mortality rate was 32.7 deaths per 1000 patient-years, and was significantly higher among patients with SUA levels of 6 mg/dL or higher than those with lower levels (80.9 vs 25.7 per 1000 person-years).
Read Also; Gout Doubles risk of Atrial Fibrillation in elderly
"Although we cannot exclude other variables not included in our database, such as control of comorbid conditions, our results encourage making any clinically acceptable effort to reach and maintain serum urate levels on target," said Dr. Luiz.
The authors concluded that currently, there are two approaches to gout: treat flares unless severe gout develops and treat to target and the study data findings support the need for renewed vigilance by physicians so that patients achieve the recommended target.
Gout is a common and complex form of arthritis that can affect anyone. It is characterized by sudden, severe attacks of pain, swelling, redness, and tenderness in the joints, often the joint at the base of the big toe.
Source : With inputs from American College of Rheumatology