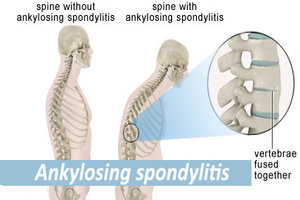 Secukinumab was found safe and effective in demonstrating rapid and sustained improvements in the signs and symptoms of ankylosing spondylitis (AS), according to the findings of a study presented at 2018 American College of Rheumatology and Association of Rheumatology Health Professionals (ACR/ARHP) Annual Meeting.
The findings were based on data from MEASURE 1, 2 and 4 randomized trials. The comprehensive analysis investigated the effect of secukinumab on health-related quality of life (HRQoL), assessed by the Short Form-36 Health Survey (SF-36), in TNF inhibitor (TNF)-naive and TNF inhibitor-inadequate responder/intolerant (TNF-IR) patients (pts) with AS.
Read Also: Secukinumab protects damage to Joints in Psoriatic Arthritis
Patients with active AS were randomly assigned to receive intravenous secukinumab 10 mg/kg followed by subcutaneous 150 mg or 75 mg, subcutaneous secukinumab 150 or 75 mg, subcutaneous secukinumab 150 mg with or without a loading dose, or placebo for 16 weeks. Participants were stratified according to prior tumor necrosis factor (TNF) inhibitor therapy.
At 16 weeks, those receiving placebo were switched to secukinumab. The proportions of patients who reported improvements meeting or exceeding the minimal clinically important differences for the SF-36 physical component summary(PCS), mental component summary(MCS), and individual SF-36 domains were evaluated.
A total of 743 pts were included: 430 and 313 in the secukinumab 150 mg and PBO groups, respectively, of whom approximately 30% were TNF-IR.
The key study findings included are:
The least squares mean changes from baseline to week 16 in SF-36 were significantly greater with secukinumab 150 mg vs placebo(PBO) for physical component summary(6.09 vs 2.75),  mental component summary(4.40 vs 2.45), and all individual domain scores.
Similar improvements were reported with secukinumab 150 mg vs PBO in TNF-naïve pts at Wk 16 (PCS: 7.23 vs 3.40; MCS: 5.22 vs 2.92).
In TNF-IR pts, PCS score was significantly improved with secukinumab 150 mg vs PBO at Wk 16 (4.79 vs 2.44).
There was a significantly higher proportion of PCS responders in the secukinumab 150 mg group at Wk 16 vs PBO, regardless of TNF status.
Similar results were reported for all individual domains in the overall population.
Consistent trends for higher response rates in favor of secukinumab 150 mg were observed in both TNF subgroups, with the TNF-naïve subgroup reaching statistical significance across all individual domains except mental health.
Improved PCS, MCS, individual domain scores and responder rates were sustained to Wk 52 with secukinumab 150 mg.
Read Also: Ixekizumab shows promise in resistant ankylosing spondylitis
The study concluded that secukinumab 150 mg resulted in significant, clinically meaningful, and sustained improvements in HRQoL (SF-36) up to Wk 52 in both TNF-naïve and TNF-IR patients with AS.
Ankylosing spondylitis is a form of arthritis that primarily affects the spine, although other joints can become involved. It causes inflammation of the spinal joints (vertebrae) that can lead to severe, chronic pain and discomfort.
For further reference log on to https://acrabstracts.org/abstract/secukinumab-provides-early-and-sustained-improvements