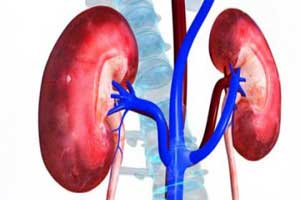 In a rare challenging surgery, doctors at Ram Manohar Lohiya hospital removed probably the world's heaviest kidney tumour. The tumour weighed 6.48 kg with a dimension of  29x 23x 16 centimetres. Doctors claim that it is heaviest kidney tumour removed surgically till date.
According to a study published in the Indian Journal of Medical Research, a malignant growth of tumour involving the kidney or renal cell carcinoma accounts for three per cent of all adult cancer and 85 per cent of all kidney tumours.
Read Also: New Delhi: Doctors at RML hospital remove 5.5 kg tumour from woman's chest
The case is of a 50 years old man from Bareilley who was brought to the Delhi based RML hospital after a complaint of pain and lump in the abdomen.
Scans confirmed a large tumor and surgery was planned. According to Dr. Umesh Sharma, assistant professor in the Urology department at RML hospital and also the main operating surgeon, such mammoth-sized kidney tumor cases are rare and difficult to remove.
"It was so big it had displaced the intestines to the right side of the patient's body and other structures in his abdomen —liver, stomach, and spleen — were also compressed," Dr. Sharma said, adding that it took nearly four-and-a-half-hours to remove the mass completely along with some of the lymph nodes.
As per the existing records, the heaviest kidney tumor removed so far weighed 5.5kg. The patient was Manju Devi, belonging to Mumbai, and the tumor was removed by Dr. Ajit Sawant on November 7, 2016. In 2015, doctors at AIIMS had removed a kidney tumor that weighed 5.1kg.
Kidney tumors are abnormal tissue growths that can happen due to multiple risk factors, for example, heredity, smoking and working in factories where there is an abundance of carcinogens such as asbestos and paint.
Read Also: Lucknow: RML Surgeons perform bloodless Surgery, remove gall bladder tumour
"Most kidney tumors weigh less than a kilogram. Heavy tumors like this are rare. Also, the bigger and heavier ones are often cancerous as was the case with the tumor in this 50-year-old. That's why we had to ensure that the mass is removed completely," the RML doctor said.
As per Dr.Sharma, the patient is recovering and will be discharged soon and the details of the tumor have been sent to the Guinness Book of World Records for official confirmation.