New Delhi: Surgeons at RML Hospital remove massive 5.5 kg tumour from chest, back and shoulders of a patient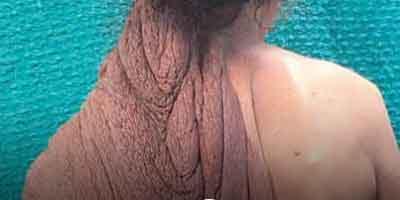 Delhi: In a one of its kind surgery, surgeons at Ram Manohar Lohia hospital (RML Hospital) have removed a 5.5 kg tumour from the chest, back and shoulders of a patient. The tumour was caused due to neurofibroma, a genetic disorder of the nervous system (brain and spinal cord). The neurofibroma tumour, which is very rare is reported to be not contagious and may occur due to rampant growth of cells in the body.
The case is that of one Ramwaati, a 28 year old resident of Bihar who had come to Ram Manohar Lohia Hospital, to undergo surgery for her massive tumour.
The tumor, causing her disfigurement had begun to adversely effect the patients social and personal life."Within a few years, the tumour grew on my chest, neck and back. I was not even able to wear clothes or sleep properly. I started avoiding social gatherings. My husband and children started avoiding me," Ramvaati told
Mail Today.
The surgery which was successful, could prove to be a challenge, especially to control the bleeding, as loss of blood could have been fatal for the patient.
Dr Sameek Bhattacharya, head of burns, plastic, maxillofacial and microvascular surgery division, at RML told Mail Today, "For the first time, we had this case of neurofibroma plexiform running through neck, shoulder and back of the body. But this was non-cancerous."
"However, the tumour involved a lot of vital nerves and vessels of the neck, from the spine to the limb and to the head. So we had to safeguard the vital blood vessels while removing the tumour. And to control the bleeding was the biggest challenge for us," he added. "To avoid maximum bleeding we worked gradually to remove the tumour starting from the normal tissue. After that we reconstructed the area taking the tissues from her thighs." he added.
A neurofibroma is a benign nerve sheath tumor in the peripheral nervous system. In 90% of cases they're found as stand-alone tumors, while the remainder are found in persons with neurofibromatosis type I (NF1), an autosomal dominant genetically inherited disease, they can result in a range of symptoms from physical disfiguration and pain to cognitive disability.
Source : With inputs