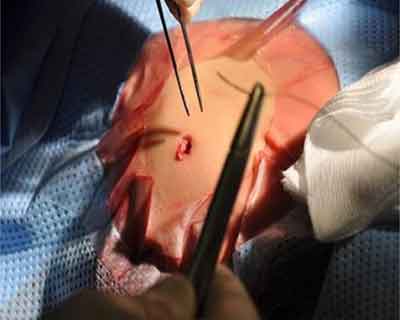 LUCKNOW: Oncosurgeons at Ram Manohar Lohia (RML) Institute of Medical Sciences,lucknow performed a complicated bloodless surgery on a 40 year old women by removing  gall bladder tumour.
The tumor is reported to have penetrated to adjoining organs including liver, stomach and pancreas.  The procedure took seven long hours.
Dr Akash Agarwal, chief of the Hepato Biliary Cancer Clinic who headed the procedure said, "Surgery was performed after ultra sound confirmed tumour in gall bladder of 40-year-old Kusum, a native of Faizabad. The case was complicated because multiple organs were affected. As we reached the gall bladder, we found the tumour had penetrated all the adjoining organs which raised difficulty for us and increased the risk," he said.
Dr Akash informed TOI that the surgery had to be stopped for a while as there was much complications and as per the rules the doctors could not operate her without consent. The doctors then informed the family of the patient regarding the complications and then proceeded.  Thus, the surgery that would have otherwise taken three hours was completed successfully in seven hours reports TOI
Institute director Dr Deepak Malviya said "Not a drop of blood was wasted in the process." Stones are one of the main causes of gall bladder cancer. The patient now relived with the surgery and recovering well.