................................ Advertisement ................................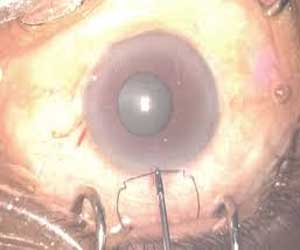 London, United Kingdom: Iris hooks and pupil expansion rings, both are effective when used in patients having small pupils during cataract surgery, according to a new study published in the Journal of Cataract & Refractive Surgery. The operating time, however, is faster when pupil expansion rings are used.
Paul Nderitu and Paul Ursell from Epsom and St. Helier University National Health Service Trust, London, United Kingdom, and colleagues compared iris hooks and a pupil expansion ring (Malyugin ring) in eyes with a small pupil. Data from 425 small pupil cases were evaluated in terms of operating time, intraoperative and postoperative complications, and visual acuity outcomes. Both trainee and consulting surgeons were included in the retrospective case study.
A Malyugin pupil expansion ring (MicroSurgical Technology) was used in 314 of the cases, and 95 cases were managed with five flexible iris hooks (Alcon/Grieshaber) and an ophthalmic viscosurgical device. The remaining 16 cases were managed with pharmacological means and did not require a pupil expander device.
................................ Advertisement ................................
Also Read: Preop OCT Screening improves cataract surgery outcomes
................................ Advertisement ................................
Key Findings:
Compared with no pupil expander, iris hooks were associated with an additional operating time of 14 minutes for consultants and 24 minutes for trainees.
The pupil expansion ring was associated with an additional operating time of 4 minutes and 6 minutes, respectively.
Neither pupil expander was associated with more intraoperative complications.
The pupil expansion ring was associated with higher postoperative anterior uveitis and corneal edema rates.
Pupil expander cases achieved equivalent visual acuity gains.
Also Read: Generalized seizures during cataract surgery following peribulbar block: A case report
"The use of the Malyugin ring for small pupil cases was faster than the use of iris hooks, especially when a trainee is operating," the study authors wrote.
"Iris hooks and pupil expansion rings were safe and effective in minimizing intraoperative complications in eyes with a small pupil. However, the pupil expansion ring was faster to use than iris hooks. Monitoring for signs of postoperative anterior uveitis or cornea edema with careful insertion or removal of pupil expansion rings is advocated," concluded the authors.
For further reference log on to 10.1016/j.jcrs.2018.02.038.
Medha Baranwal joined Medical Dialogues as an Editor in 2018 for Speciality Medical Dialogues. She covers several medical specialties including Cardiac Sciences, Dentistry, Diabetes and Endo, Diagnostics, ENT, Gastroenterology, Neurosciences, and Radiology. She has completed her Bachelors in Biomedical Sciences from DU and then pursued Masters in Biotechnology from Amity University. She has a working experience of 5 years in the field of medical research writing, scientific writing, content writing, and content management. She can be contacted at medha@medicaldialogues.in. Contact no. 011-43720751
To know about our editorial team click here
................................ Advertisement ................................