New imaging technique may easily predict fracture risk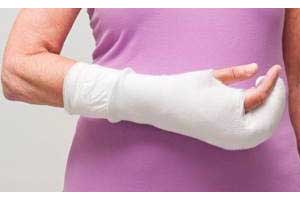 Boston: Now fracture risk can be easily predicted through high-resolution peripheral computed tomography (HR-pQCT).
The study which appeared in Lancet Diabetes and Endocrinology indicates that while DXA measurement of BMD predicts fracture, HR-pQCT adds additional information about risk. This allows clinicians to analyze a patient's bone microarchitecture and is an important step in identifying additional bone traits that predict fracture risk.
Dual-energy X-ray absorptiometry (DXA) has been considered the clinical standard for determining fracture risk, along with the Fracture Risk Assessment Tool (FRAX). A FRAX assessment considers factors such as age, gender, weight, alcohol use, smoking history, and fracture history.
Read Also: High vitamin A intake may increase risk of bone fractures
The study included more than 7,000 participants from the United States and four other countries with 765 fractures and represents the largest prospective study of HR-pQCT indices and an incident fracture to date. Bone is generally classified into two tissue types--cortical bone, also known as compact bone and trabecular bone, also known as a cancellous or spongy bone.
The study found that after adjustment for age, sex, cohort, height, and weight, peripheral skeleton failure load had the greatest association with risk of fracture: tibia and radius. After further adjustment for femoral neck aBMD or FRAX score, the associations were reduced but remained significant for most bone parameters. A model including cortical volumetric bone density, trabecular number, and trabecular thickness at the distal radius and a model including these indices plus cortical area at the tibia were the best predictors of fracture.
According to the lead author Lisa Samelson, results from this large international cohort of women and men suggest deficits in trabecular and cortical bone density and structure contribute to fracture risk independently of BMD and FRAX.
Read Also: Men have 3 fold higher risk of repeat fracture in osteoporosis
Fragility fractures, which lead to significant morbidity, mortality, and expense, are a large public health concern. Notably, the number of women who will experience a fracture in any given year exceeds the combined number who will experience a stroke, breast cancer or myocardial infarction.
"Our findings from a large international cohort of men and women support previous reports that deficits in trabecular and cortical bone density and structure independently contribute to fracture risk, write the authors.
Source : With inputs from Lancet Diabetes and Endocrinology