High vitamin A intake may increase risk of bone fractures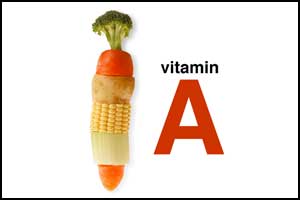 According to a new study, high vitamin A intake may increase the risk of bone fractures.
Over supplementation of vitamin A in the diet is associated with decreased cortical bone thickness and increased risk of fracture, reports a study published in the Journal of Endocrinology.
The study, undertaken in mice, found that sustained intake of vitamin A, at levels equivalent to 4.5-13 times the human recommended daily allowance (RDA), caused significant weakening of the bones, and suggests that people should be cautious of consumption of excess vitamin A in their diets.
"Overconsumption of vitamin A may be an increasing problem as many more people now take vitamin supplements. An overdose of vitamin A could be increasing the risk of bone weakening disorders in humans but more studies are needed to investigate this. In the majority of cases, a balanced diet is perfectly sufficient to maintain the body's nutritional needs for vitamin A." said Dr. Ulf Lerner, the lead author of the study.
Read Also: The role of vitamin A in diabetes
Previous studies in mice have shown that short-term overdosing of vitamin A, at the equivalent of 13-142 times the recommended daily allowance in people, results in decreased bone thickness and an increased fracture risk after just 1-2 weeks. This study is the first to examine the effects of lower vitamin A doses that are more equivalent to those consumed by people taking supplements, over longer time-periods.
Dr. Ulf Lerner and colleagues reported that mice were given lower doses of vitamin A, equivalent to 4.5-13 times the RDA in humans, over a longer time period, also showed thinning of their bones after just 8 days, which progressed over the ten-week study period.
"Previous studies in rodents have shown that vitamin A decreases bone thickness but these studies were performed with very high doses of vitamin A, over a short period of time. In our study we have shown that much lower concentrations of vitamin A, a range more relevant for humans, still decreases rodent bone thickness and strength," said Dr. Ulf Lerner.
Read Also: Vitamin and mineral supplements are of no good to your health: JACC Study
The researchers decided to move a step further to investigate if human-relevant doses of vitamin A affect bone growth induced by exercise, which was not addressed in this study and will also try to find out the effects of vitamin A supplementation in older mice, where growth of the skeleton has ceased, as is seen in the elderly.
For reference log on to
https://joe.bioscientifica.com/view/journals/joe/aop/joe-18-0316.xml?rskey=DF3YXT&result=1
Source : With inputs from the Journal of Endocrinology