Preoperative dry eye treatment with Xiidra improved outcomes of cataract surgery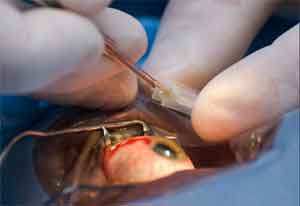 Treating dry eye preoperatively with Xiidra (lifitegrast ophthalmic solution 5%, Takeda) led to improved outcomes in patients scheduled for cataract surgery, according to a recent study. The treatment improved signs and symptoms of dry eye as well as higher-order aberrations.
In the study, presented at the American Society of Cataract and Refractive Surgery annual meeting, John A. Hovanesian, and colleagues determined how lifitegrast affected the root mean square higher-order aberrations in the cornea measured with topography and the accuracy of preoperative biometry in predicting postoperative spherical equivalent, as well as SPEED scores and corneal stain.
"There was a clear and significant improvement in [root mean square] higher-order aberrations when lifitegrast was used," as well as improved accuracy of preoperative biometry, said Hovanesian.
For the purpose they measured biometry in patients with cataract and significant dry eye both before and after 4 weeks of treatment with Xiidra (lifitegrast ophthalmic solution 5%, Takeda).
Biometry was performed initially at presentation and again after a month of treatment with lifitegrast. Surgery was then performed, and refractive outcomes were evaluated 1 month postoperatively.
Also Read: Preoperative testing does not increase safety in cataract surgery
Key Findings:


In the first 17 patients of the 200-patient study, higher-order aberrations after lifitegrast were significantly reduced in 10 patients, remained unchanged in six patients and increased in one patient.


There was a trend toward improvement in refractive accuracy as seen in the study's early findings in 13 patients and as the study approaches 100 patients enrolled there is now clearly a statistically significant trend toward greater accuracy.


A majority of patients are asymptomatic for the dry eye before cataract surgery; even so, SPEED scores improved by 62% in 21 patients, and as more data are compiled, results continue to show statistically significant improvement.


Of the 21 patients, corneal staining disappeared in 86%, conjunctival redness improved in 50% and tear breakup time improved in 90%.


Also Read: Preop OCT Screening improves cataract surgery outcomes
"We're seeing an even more significant trend as this study nears completion. What that means is that RMS HOA is a predictor of patient satisfaction with premium IOLs," Hovanesian said. "We almost double the likelihood that our patient will be happy with the outcomes after surgery when we treat dry eye in this manner."