Perioperative alcohol cessation reduces postoperative complications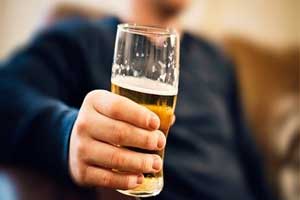 A new study published in Cochrane reports that perioperative alcohol cessation interventions reduce postoperative complications for people with risky alcohol consumption.
Risky drinking is associated with increased postoperative complications such as infections, cardiopulmonary complications, and bleeding episodes. Alcohol causes disorders of the liver, pancreas, and nervous system.
Egholm and associates conducted a systematic review to assess the effects of perioperative alcohol cessation interventions on rates of postoperative complications and alcohol consumption.
Read Also: Modest alcohol intake reduces mortality in NAFLD
The investigators extracted the data from Cochrane Central Register of Controlled Trials (CENTRAL), in the Cochrane Library; MEDLINE; Embase; CINAHL via EBSCOhost; and two trials registers and included participants with risky consumption of alcohol who were undergoing all types of elective or acute surgical procedures under general or regional anesthesia or sedation, who were offered a perioperative alcohol cessation intervention or no intervention.
The authors defined 'risky drinking' as alcohol consumption equivalent to more than 3 alcoholic units (AU)/d or 21 AU/week (with 1 AU containing 12 grams of ethanol) with or without symptoms of alcohol abuse or dependency. This corresponds to the amount of alcohol associated with increased postoperative complication rates in most clinical studies.
The primary outcome measures were postoperative complications and in-hospital and 30-day mortality. Secondary outcomes were successful quitting at the end of the programme, postoperative alcohol use, and length of hospital stay.
All studies evaluated the effects of intensive alcohol cessation interventions, including pharmacological strategies for alcohol withdrawal symptoms, patient education, and relapse prophylaxis.
The key analysis is as follows:


Overall, 53 of the 122 participants from three studies who underwent surgery developed any type of postoperative complications that required treatment.


Of 61 participants in the intervention group, 20 had complications, compared with 33 of 61 participants in the control.


Results show differences between the three clinical studies regarding outcome measurement and intensity of the interventions. However, all alcohol cessation programmes were intensive and included pharmacological therapy. The overall quality of evidence for this outcome is moderate.


In-hospital and 30-day postoperative mortality rates were low in the three studies. Researchers reported one death among 61 participants in the intervention groups and three deaths among 61 participants in the control The quality of evidence for this outcome is low.


Investigators describe more successful quitters at the end of the intervention programme than among controls. Forty-one out of 70 participants in the intervention groups successfully quit drinking compared with only five out of 70 participants in the control. The quality of evidence for this outcome is moderate.


Read Also: Alcohol abuse cause of 3 million deaths a year, mostly men : WHO
"Intensive alcohol cessation interventions offered for four to eight weeks to participants undergoing all types of surgical procedures to achieve complete alcohol cessation before surgery probably reduced the number of postoperative complications," write the authors.
For full information log on to https://www.cochrane.org/CD008343/ANAESTH_effects-perioperative-alcohol-cessation-interventions-postoperative-complications-following-surgery
Source : With inputs from Cochrane Library