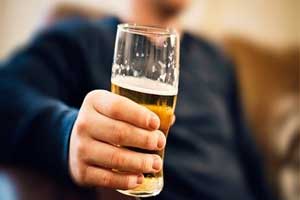 A new study published in the journal Hepatology reports that among patients with nonalcoholic fatty liver disease (NAFLD), modest alcohol consumption is associated with a significant decrease in all‐cause mortality, whereas drinking ≥1.5 drinks per day is associated with an increase in mortality.
Read Also: Moderate alcohol consumption may boost semen quality-Andrology study
Kaveh Hajifathalian and his associates analyzed the data of 4,568 participants with NAFLD obtained from National Health and Nutrition Examination Survey participants from 1988 to 2010 and linked them to the National Death Index to examine the effect of alcohol consumption on survival in nonalcoholic fatty liver disease.
The exclusion criteria included significant alcohol use, viral hepatitis, or increased transferrin saturation.
The key study findings included are:
Drinking 0.5‐5 drinks per day decreased the risk of overall mortality by 41% compared with not drinking.
Drinking ≥1.5 drinks per day showed a trend toward harm.
After further adjustment for race, physical activity, education level, diabetes, and fiber and polyunsaturated fatty acid intake, drinking 0.5‐5 drinks per day continued to show a significant protective effect.
Drinking ≥1.5 drinks per day showed a significant harmful effect on mortality.
Read Also: New Technology may treat Alcohol abuse and Depression
According to the authors, the findings of the study may help to inform the discussion of potential risks and benefits of alcohol use in patients with the non-alcoholic fatty liver disease.
According to WHO worldwide, there are three million deaths every year from the harmful use of alcohol which represents 5.3 % of all deaths. There is a causal relationship between the harmful use of alcohol and a range of mental and behavioral disorders, other noncommunicable conditions as well as injuries and the latest causal relationships have been established between harmful drinking and incidence of infectious diseases such as tuberculosis as well as the course of HIV/AIDS.
For reference log on to https://doi.org/10.1002/hep.30226
The following two tabs change content below.
Vinay Singh
Vinay Singh joined Medical Dialogue as Desk Editor in 2018. He covers the medical speciality news in different medical categories including Medical guidelines, updates from Medical Journals and Case Reports. He completed his graduation in Biotechnology from AAIDU and did his MBA from IILM Gurgaon. He can be contacted at editorial@medicaldialogues.in . Contact no. 011-43720751
Latest posts by Vinay Singh (see all)