Obese women experience more severe fibromyalgia symptoms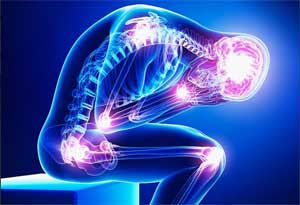 Spain: Obese and overweight women may experience more severe symptoms of fibromyalgia, finds a recent study published in the Nutrients journal. The symptoms include pain, fatigue, and depression.
Fibromyalgia also called fibromyalgia syndrome (FMS), is a chronic pain syndrome characterized primarily by diffuse musculoskeletal pain, fatigue, and mood and sleep disturbances. It is the most common cause of chronic pain, fatigue, disability and cognitive difficulties. The condition significantly impairs the quality of life of the patients affected. Women more frequently affected by the condition than men.
Previous studies have shown that the prevalence of overweight and obesity is high in FMS patients, ranging from 62% to 73%. Although increased body mass index (BMI) has been associated with multiple pain measures, symptom severity, disease activity, fatigue, anxiety, or quality of life in FMS patients, the results although are still controversial.
María Correa-Rodríguez, University of Granada (UGR), Granada, Spain, and colleagues examined the relationships among BMI and body composition parameters, including fat mass, fat mass percentage, and visceral fat, as well as FMS features, such as tender point count (TPC), pain, disease activity, fatigue, sleep quality, and anxiety, in FMS women patients and healthy controls.
This crossectional study included 73 women with FMS and 73 healthy controls matched on weight. A body composition analyzer was used to measure visceral fat, fat mass percentage and fat mass. Tender point count (TPC) was measured by algometry pressure. The disease severity was measured with the Fibromyalgia Impact Questionnaire (FIQ-R) and self-reported global pain was evaluated with the visual analog scale (VAS). Pittsburgh Sleep Quality Questionnaire (PSQI) was used to measure the quality of sleep, fatigue and anxiety. Of the women in this study, 38.4% and 31.5% were overweight and obese, respectively.
Also Read: Gut bacteria changes associated with fibromyalgia in women, suggests 'first evidence'
Key findings include:


Significant differences in FIQ-R.1 (16.82 ± 6.86 vs. 20.66 ± 4.71), FIQ-R.3 (35.20 ± 89.02 vs. 40.33 ± 5.60), and FIQ-R total score (63.87 ± 19.12 vs. 75.94 ± 12.25,) among normal-weight and overweight FMS were observed.


Linear analysis regression revealed significant associations between FIQ-R.2, FIQ-R.3, and FIQ-R total score and BMI in FMS women after adjusting for age and menopause status.


Associations between sleep latency and fat mass percentage in FMS women and sleep quality and visceral fat in healthy women adjusted for covariates were also reported.


The higher BMI values are associated with poor FIQ-R scores and overweight and obese women with FMS have higher symptom severity.


The promotion of an optimal BMI might contribute to ameliorate some of the FMS symptoms.


Also Read: Fibromyalgia patients at higher risk for migraine
"Further work is required to validate whether this relationship is specific for FMS patients. The promotion of an optimal BMI might contribute to ameliorate some of the FMS symptoms. Thus, development and implementation of obesity prevention programs based on a balanced diet and increased physical activity to improve the severity of symptoms in FMS women are of special interest," concluded the authors.
To read the complete study follow the link:
https://doi.org/10.3390/nu11051193