Gut bacteria changes associated with fibromyalgia in women, suggests 'first evidence'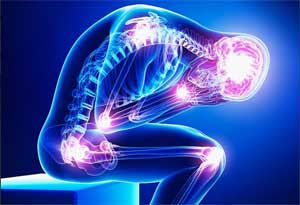 Canada: The specific gut microbiome is altered in patients with fibromyalgia (FM) compared to healthy subjects, finds a recent study published in the journal Pain. The researchers showed that compared with healthy subjects women with fibromyalgia had significant differences in 19 species of gut bacteria. Also, fibromyalgia patients had higher levels of butyrate and lower levels of propionate.
According to the researchers, the results are the first to demonstrate an association between alteration of gastrointestinal tract microbiota and somatic (non-visceral) pain, particularly FM.
Fibromyalgia also called fibromyalgia syndrome (FMS), is a long-term condition that causes pain all over the body. It is the most common cause of chronic pain, fatigue, disability and cognitive difficulties. The condition significantly impairs the quality of life of the patients affected. Pathophysiology of the disease is not well understood. Multiple hypotheses are being suggested including impaired central nervous system nociceptive processing, altered peripheral nociception, and systemic inflammation.
Amir Minerbi, Alan Edwards Pain Management Unit, McGill University Health Center, Montreal, Canada, and colleagues enrolled 77 women in Montreal who had fibromyalgia. They were aged between 30 and 60 years (mean age, 46 years). The mean time of diagnosis was 12 years prior to recruitment.
Healthy controls were divided into three groups including first-degree female relatives to act as genetic controls (n = 11); household members of the study patients (n = 20); and unrelated healthy women who were the same age as the patients (n = 48).
In addition to clinician interviews and other measures, a dietitian interviewed the participants and supervised the administration of the National Institutes of Health Automated Self-Administered 24-hour Canada Dietary Recall questionnaire.
There were no significant between-group differences in intake of vitamins, minerals, alcohol, caffeine, sugar, fatty acids, and fibre. The overall diet quality scores were also not significantly different.
Participants used the Omnigen Gut OM-200 kit (DNA Genotek) to collect and freeze a stool sample at home. The frozen samples were delivered to the study facility within 10 days of collection and DNA was then extracted from the samples.
Using 16S ribosomal RNA (rRNA) gene amplification and whole-genome sequencing, the investigators assessed the microbiomes of the 77 women with fibromyalgia and the 79 participants who acted as the total comparator group.
Also Read: Metformin helps in fibromyalgia-reduces associated insulin resistance and pain
Key findings of the study include:


The results showed relatively similar structure and diversity of the gut microbiome between the patients with fibromyalgia and healthy controls. However, they found significant alterations in gut microbiome composition when exploring the data at a "higher resolution."


Nineteen species of taxa were significantly different in patients with fibromyalgia vs the unrelated study participants. Those that were lower in abundance included Faecalibacterium prausnitzii, Bacteroides uniformis, Prevotella copri, and Blautia faecis. Faecalibacterium prausnitzii is a butyrate-producing bacteria that has been shown in previous research to be depleted in multiple intestinal diseases. An abundance of Bacteroides uniformis, Prevotella copri, and others have been linked before to inflammatory arthritis. In addition, Bacteroides uniformis has been detected in osteoarthritic joint tissue and Prevotella copri in rheumatoid arthritis synovial fluid.


These species were in lower abundance in the patients with fibromyalgia, calling into question past considerations of fibromyalgia as a rheumatologic disease.


Species that were in higher abundance in those with fibromyalgia included Intestinimonas butyriciproducens, Flavonifractor plautii, Butyricoccus desmolans, Eisenbergiella tayi, Eisenbergiella massiliensis, and Parabacteroides merdae.


Serum levels of butyric acid were significantly higher and levels of propionic acid were lower in the fibromyalgia group vs the unrelated-controls group.


They also had a nonsignificant trend toward lower levels of isobutyric acid.


There was also a significant correlation between disease-severity measures, including pain intensity and distribution, fatigue, and cognitive symptoms, and an abundance of several taxa (Benjamini-Hochberg FDR, < .05).


A "LASSO machine-learning algorithm showed high prediction accuracy of patients from controls, based only on individual microbiome features." This resulted in overall prediction accuracy, using Area Under the Curve/Receiver-Operating Characteristics (AUC-ROC), of 87.2%.


A Support Vector Machine algorithm yielded a prediction accuracy AUC-ROC of 87.8%.


Also Read: Simple and fast blood test to accurately spot fibromyalgia
"Results provide evidence for alterations of gut microbiome in FM. Further studies are needed to measure possible microbiome changes in other chronic pain conditions and to explore potential causal correlations between the gut microbiome and FM. Our findings may offer important opportunities to improve our understanding of FM, aid in its diagnosis and perhaps outline future therapeutic modalities," concluded the authors.
To read the complete study follow the link:
doi:
10.1097/j.pain.0000000000001640