Moderate Drinking has survival benefit in Heart Failure : JAMA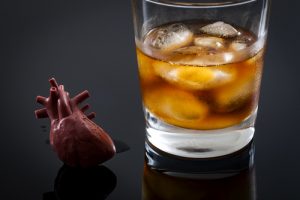 People newly diagnosed with heart failure over 65 can continue to drink moderate amounts of alcohol without debilitating their condition. A new study has found that moderate Drinking has survival benefit in Heart Failure.
The study, from Washington University School of Medicine in St. Louis and published in JAMA showed a survival benefit for moderate drinkers compared with those who abstained from alcohol. On average, survival for moderate drinkers was just over a year longer than abstainers, a difference that was statistically significant.
Among community-dwelling older adults, alcohol consumption of 7 or fewer drinks per week after the diagnosis of HF was associated with longer survival compared with abstinence. However, the findings do not suggest that nondrinkers should start drinking after a heart failure diagnosis, the researchers emphasized.
Read Also: Modest alcohol intake reduces mortality in NAFLD
More than 1 million older adults develop heart failure annually. The association of alcohol consumption with survival among these individuals after diagnosis is unknown. Current guidelines provide little guidance with respect to recommendations regarding alcohol consumption in patients with HF.
Justin Sadhu and associates conducted a cohort study to determine whether alcohol use is associated with increased survival among older adults with incident heart failure.
Investigators analyzed data from the Cardiovascular Health Study between 1989 and 1993 on nearly 6000 older adults with an average age of 79 years. They compared patients who never drank, patients who drank in the past but stopped, patients who had seven or fewer drinks per week, and patients who had eight or more drinks per week.
Read Also: Perioperative alcohol cessation reduces postoperative complications
These findings suggest that limited alcohol consumption among older adults with incident HF is associated with survival benefit compared with long-term abstinence.
According to the authors, moderate alcohol consumption appears to be protective against coronary atherosclerotic events, perhaps because of increases in high-density lipoprotein concentration, reductions in plasminogen activator, increases in plasminogen activator inhibitor activities, and improvement in insulin sensitivity.
"Our findings of increased survival among community-dwelling older adults with HF and moderate alcohol consumption are consistent with observations reported in other studies in the population of patients without HF," writes the author.
For full information log on to
https://jamanetwork.com/journals/jamanetworkopen/fullarticle/2719576
Source : With inputs from JAMA