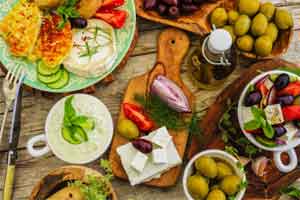 Mediterranean diet can lower the risk of stroke, especially in women over 40 regardless of menopausal status or hormone replacement therapy, according to a new study published in the journal Stroke.
Mediterranean diets (MD), which encourage eating fruits, vegetables, cereal foods, nuts, fish, and unsaturated fats, have been associated with lower rates of heart disease and strokes, but only a few studies have investigated whether this relationship differs by sex or cardiovascular disease risk.
Ailsa A. Welch, University of East Anglia, Norwich Research Park, Norwich, United Kingdom, and colleagues conducted the study to examine whether greater adherence to MD was associated with reduced risk of incident stroke in a prospective cohort study of middle and older aged people.
The study is one of the largest and longest-running efforts to evaluate the potential benefits of the Mediterranean-style diet in lowering risk of stroke.
Study participants (23,232 white adults, 40 to 77) were from the EPIC-Norfolk study, the United Kingdom Norfolk arm of the multicenter European Prospective Investigation into Cancer study. Over a 17-year period, researchers examined participants' diets and compared stroke risk among four groups ranked highest to lowest by how closely they adhered to a Mediterranean style diet.
Also Read: Mediterranean Diet protects against age-related macular degeneration
Key Results:
In participants, who most closely followed a Mediterranean-style diet, the reduced onset of stroke was:

17 percent in all adults;
22 percent in women; and
6 percent in men (which researchers said could have been due to chance).

There was also a 13 percent overall reduced risk of stroke in participants already at high risk of cardiovascular disease across all four groups of the Mediterranean-diet scores. However, this was driven mainly by the associations in women who showed a 20 percent reduced stroke risk. This benefit appeared to be extended to people in the low-risk group although the possibility of chance finding cannot be ruled out completely.
"It is unclear why we found differences between women and men, but it could be that components of the diet may influence men differently than women," Dr. Welch said in a press release. "We are also aware that different sub-types of stroke may differ between genders. Our study was too small to test for this, but both possibilities deserve further study in the future. A healthy, balanced diet is important for everyone both young and old."
Researchers used seven-day diet diaries, which they said had not been done before in such a large population. Seven-day diaries are more precise than food-frequency questionnaires and participants write down everything they eat and drink over the period of a week.

"Greater adherence to the MD was associated with lower risk of stroke in a UK white population. For the first time in the literature, we also investigated the associations between the MD score in those at both low and high risk of cardiovascular disease," write the authors.
"Although the findings in our study were driven by the associations in women, they have implications for the general public and clinicians for the prevention of stroke," concluded the authors.
For further reference follow the link: https://doi.org/10.1161/STROKEAHA.117.020258