Mediterranean Diet protects against age-related macular degeneration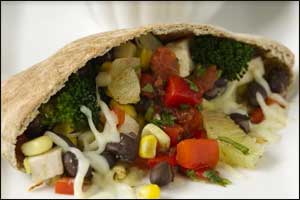 Mediterranean diet pattern reduces oxidative stress and inflammation and is more beneficial in protecting against age-related macular degeneration(AMD) than any specific nutrient, according to a new study published in the Opthalmology, the journal of American Academy of Ophthalmology. Higher adherence to the MeDi was associated with a 41% reduced risk of incident advanced AMD.
Benedicte MJ. Merle and associates conducted a prospective cohort study to investigate the associations of adherence to the Mediterranean diet with incidence of the symptomatic form of age-related macular degeneration (AMD) in two European studies
The study included 4 446 participants aged ≥55 years from the Rotterdam Study I (RS-I)and 550 participants aged 73 years or older from the Alienor Study with complete ophthalmologic and dietary data.
The investigators examined approximately every 5 years over a 21-year period (1990 to 2011) in RS-I and every 2 years over a 4-year period (2006 to 2012) in Alienor Study. Adherence to the MeDi was evaluated using a 9 component score based on intake of vegetables, fruits, legumes, cereals, fish, meat, dairy products, alcohol and the monounsaturated-to-saturated fatty acids ratio. Associations of incidence of AMD with MeDi were estimated using multivariate Cox Proportional Hazard models.
Read Also:How a Mediterranean diet could reduce osteoporosis
The primary outcome was an incidence of advanced AMD based on retinal fundus photographs.
Key study findings:


Among the 4 996 included participants, 155 developed advanced incident AMD (117 from RS-I and 38 from Alienor Study).


The mean follow-up time was 9.9 years in RS-I and 4.1 years in Alienor Study.


Pooling data for both RS-I and Alienor study, participants with a high (6-9) MeDi score had a significantly reduced risk for incident advanced AMD compared to participants with a low (0-3) MeDi score.


Combined results from both observational studies suggest that adopting an energy-unrestricted diet rich in healthful nutrient-rich foods such as fruits, vegetables, legumes, and fish, and reducing unhealthful foods such as red and processed meats and savory and salty industrialized products may contribute to the prevention of AMD.
For reference log on to https://doi.org/10.1016/j.ophtha.2018.08.006
Source : With inputs from Opthalmology