Marijuana use may be associated with testicular cancer: JAMA Study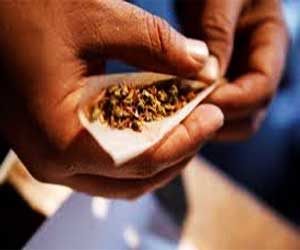 USA: Increasing marijuana smoking, particularly among young adults, raises concerns about cancer risk among marijuana users. A recent review found insufficient evidence to support an association between marijuana consumption and cancer, except with the development of testicular germ cell tumour (TGCT) or testicular cancer.
Testicular cancer is a relatively rare disease and in the United States, around 1 in 250 males develop testicular cancer during their lifetime. In 2019, experts predict that 9,560 males will receive a diagnosis of testicular cancer.
According to the study, published in the journal JAMA Network Open, marijuana use for more than 10 years was found to be associated with TGCT, but the quality of the evidence is "low strength." evidence of an association between marijuana use and incident lung cancer is of poor quality and inconclusive. Similarly, its association with other cancers and the consequences of higher levels of use are unclear.
Marijuana is the most widely used illicit substance in the US. Rates of marijuana use are increasing at a rapid rate, especially among young adults. Smoking remains the main route of marijuana exposure. Marijuana smoke and tobacco smoke share carcinogens, including toxic gases, reactive oxygen species, and polycyclic aromatic hydrocarbons, such as benzo[α]pyrene and phenols, which are 20 times higher in unfiltered marijuana than in cigarette smoke.
Given cancer to be a major cause of death across the globe, and smoking is the preventable cause of cancer death, marijuana smoke, like tobacco smoking may have important health implications. Despite this, there remains a dearth of information on the association between marijuana consumption and health, including its association with cancer.
Mehrnaz Ghasemiesfe, Northern California Institute of Research and Education, San Francisco, and colleagues assessed the association of marijuana use with cancer development.
For the purpose, the researchers looked at studies from 1973 to 2018 that compared nonusers to marijuana ever-users, who were defined as using one joint per day for 1 year. The team found 25 English-language studies (19 case-control, 5 cohorts, and 1 cross-sectional). But only two studies were "low risk of bias."
Read Also: Disclose marijuana use to anaesthetist before surgery, suggest Colorado Doctors
Key findings of the study include:


In pooled analysis of case-control studies, ever use of marijuana was not associated with head and neck squamous cell carcinoma or oral cancer.


In pooled analysis of 3 case-control studies, more than 10 years of marijuana use (joint-years not reported) was associated with TGCT (OR, 1.36) and nonseminoma TGCT (OR, 1.85).


Evaluations of ever use generally found no association with cancers, but exposure levels were low and poorly defined.


Findings for lung cancer were mixed, confounded by few marijuana-only smokers, poor exposure assessment, and inadequate adjustment; meta-analysis was not performed for several outcomes.


Read Also: Recreational use of marijuana may increase stroke risk
"Increasing rates of marijuana use and evolution in delivery routes raise concerns about long-term consequences. Large-scale longitudinal studies with representative samples of marijuana-only smokers are needed to better understand the association of marijuana use with the development of lung, oral, and other cancers," wrote the authors.
"In the meantime, clinicians should discuss marijuana use with patients to raise awareness of the lack of clarity on potential clinically important harms and to debunk beliefs in unproven benefits."
The study, "Association Between Marijuana Use and Risk of Cancer: A Systematic Review and Meta-analysis," is published in the JAMA Network Open journal.
Source : JAMA Network Open