Ketamine and dexmedetomidine combo requires close watch in surgical patients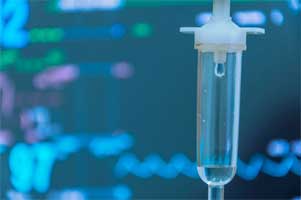 The combination of analgesic doses of ketamine along with dexmedetomidine has potential neurocognitive and behavioural effects. For this reason, the surgical patients receiving the drug combination require close monitoring before and immediately after they leave the hospital.
These are the findings of a recent study presented at the Society of Critical Care Medicine's 2019 Critical Care Congress.
Amie Hayley, a senior research fellow at the Swinburne University of Technology, in Victoria, Australia, and colleagues explored the neurocognitive effects of ketamine alone and in combination with either dexmedetomidine or fentanyl on 39 patients.
The patients received a ketamine bolus of 0.3 mg/kg, followed by a ketamine infusion of 0.15 mg/kg per hour for three hours. One hour and 30 minutes after receiving the ketamine dose, 19 patients received a dexmedetomidine infusion of 0.7 mcg/kg per hour (KET/DEX arm) and 20 received three 25-mcg fentanyl injections over 1.5 hours (KET/FENT arm).
Dr Hayley said it was possible "the addition of dexmedetomidine enhances the pharmacodynamic effects of ketamine at these doses, producing synergistic analgesic and sedative effects, which have downstream implications for overt neurocognitive and behavioural abilities."
Also Read: Ketamine safe for induction of GA with elevated intracranial pressure
Key findings of the study include:


Receiving only ketamine significantly reduced patients' psychomotor speed, as well as the accuracy of responses to both simple and complex questions.


recall and recognition memory also were impaired, but the ketamine did not alter executive functions.


Following co-administration of dexmedetomidine, performance effects were largely additive, and memory deficits in recall abilities were persistent at post-treatment (KET/DEX).


Those in the KET/FENT arm saw only a modest acute deficit in psychomotor accuracy and speed.


Group comparison at medication coadministration revealed comparatively greater neurocognitive deficits under the KET/DEX condition.


The concomitant administration of a ketamine bolus and dexmedetomidine infusion resulted in marked impairment on skills relating to psychomotor speed, attention, response inhibition, cognitive flexibility, mental processing and memory.


Also Read: Intraoperative Ketamine prevents postoperative cognitive dysfunction
"At analgesic doses required for pain relief, ketamine administered in combination with dexmedetomidine impairs thinking, behaviour and memory," said Dr Hayley. "These effects occur both during the treatment period as the drugs are being administered and for up to two hours after treatment has concluded."
One might be able to attribute the variations in neurocognitive performance with KET/DEX to the residual exacerbation of the alpha-2 adrenergic–mediated effects of dexmedetomidine, which would increase sedation, rather than through direct intoxication, she said.
Dr Hayley said the findings are the first to demonstrate the residual neurocognitive and behavioural effects of ketamine when used with dexmedetomidine and suggested a potential synergistic effect of these drugs when combined at analgesic doses. "This may have significant clinical implications regarding optimal patient care, both during the acute treatment phase and throughout the postoperative observation period," she said.
The study's findings are particularly important when a patient is being prepared for routine discharge from the hospital after surgery, according to Dr. Hayley. "In particular, it means that patients should be closely monitored before they leave the hospital in case they are still affected by the medications, and suggests that additional assessments may need to be undertaken to evaluate a patient's home-readiness after leaving the hospital site and upon returning home," she said.
"These results prompt us to recommend immediate replication studies in patient populations, which have significant potential for optimizing patient care during the acute and postoperative period under these treatment regimens," concluded Dr Hayley.