Exercise as therapy in Peripheral Artery Disease improves symptoms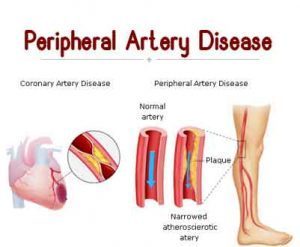 Exercise may be employed as therapy to improve disabling symptoms.
Patients with Peripheral Artery Disease (PAD) suffer from leg pain and disability that lowers quality of life. A key treatment goal for patients with PAD is improving walking capacity to preserve function. Patients with PAD have increased rates of functional decline even in the absence of classic claudication symptoms.
The benefits of exercise therapy for patients with PAD derive from an array of physiologic changes. A combination of blood flow limitation, alterations in vascular function and skeletal muscle dysfunction contribute to leg symptoms and functional impairment in patients with PAD.
Read Also: New Drug-Eluting Stent approved for Peripheral Artery Disease
The American Heart Association(AHA) scientific statement "Optimal Exercise Programs for Patients with Peripheral Artery Disease" provides a detailed overview of the available evidence that forms the basis for current programs and the research areas that will advance this field.
This scientific statement serves as a comprehensive clinical resource regarding the evidence supporting exercise for patients with peripheral artery disease (PAD) and lower extremity symptoms, the underlying pathophysiology related to the walking impairment, and outlines the role of supervised exercise training (SET) as well as home-based walking programs and alternative exercise approaches.
The exercise limitation in patients with lower extremity PAD is multifactorial related to abnormal arterial blood flow in the large blood vessels, local microcirculatory changes, and changes in calf muscle structure and metabolic activity.
Several approaches have been used in the research setting to measure the benefits of exercise therapy in PAD. Treadmill based performance measures are commonly employed and permit an objective, comparable assessment. However, several complementary approaches including the six-minute walk test and wearable activity monitors may reflect more accurately functional capacity in daily life.
The supervised exercise should occur three times per week for a total of 12 weeks, followed by lifetime maintenance walking of at least twice per week.
Home-based walking exercise, an alternative to SET when patients are unable to come for supervised sessions, suggests that patients write down their walking exercise goals and record their walking exercise each week, and this information be reviewed periodically by a health care provider with specific feedback provided to the patient. The home-based walking program can start with as little as 10 minutes of walking exercise per session and increasing walking exercise per session by approximately 5 minutes per week until the patient is walking for exercise during 45 to 50 minutes per session (excluding rest periods).
Read Also: Recent advances in anti-thrombotic therapy for peripheral artery disease
For patients with lower extremity PAD who are unable to do walking exercise, alternative strategies such as arm ergometry, leg cycling, and resistance training can be considered.
In 2017 there was a national coverage determination of supervised exercise therapy (SET) for Medicare beneficiaries with symptomatic PAD, resulting in the implementation of SET programs across the country. This scientific statement outlines the specific components of a recommended SET program and highlights the supporting evidence.
Efforts are currently ongoing to develop patient-centered outcomes across the spectrum of clinical PAD including claudication and critical limb ischemia. These functional and patient-reported outcomes are an essential component to assess PAD therapies including revascularization approaches.
For full information log on to
https://www.ahajournals.org/doi/10.1161/CIR.0000000000000623