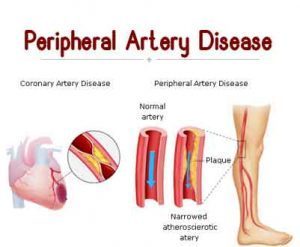 Peripheral artery disease (PAD) is a circulatory condition characterized by the reduced flow of blood to the limbs due to narrowing of the blood vessels. It affects over 200 million people worldwide and is a cause of significant morbidity, mortality, and disability due to limb loss.
Mohamad A. Hussain, Department of Surgery, University of Toronto, Toronto, Ontario, Canada, and colleagues conducted a study to summarize the current available evidence for the safety and efficacy of various antithrombotic agents in PAD and discuss how to integrate this emerging evidence into actual clinical practice. The study was published in the Journal of the American College of Cardiology.
Key Findings of the study:
Despite the fact that secondary prevention with antithrombotic therapy is a mainstay of treatment to prevent adverse cardiovascular events, PAD patients are often undertreated with antithrombotic agents.
Data on antithrombotic therapy for stable PAD are largely derived from subanalyses of randomized trials that enrolled patients with various manifestations of atherosclerosis, including coronary disease, cerebrovascular disease, and PAD.
Currently, there is no definitive evidence for the efficacy of aspirin in patients with asymptomatic PAD. The guidelines vary in their treatment recommendations for patients with asymptomatic PAD. The American Heart Association/American College of Cardiology PAD guideline recommends antiplatelet therapy as reasonable if the ankle-brachial index is ≤0.90; the European Society of Cardiology guideline recommends against routine antiplatelet therapy in asymptomatic patients, and the Society for Vascular Surgery guideline provides no specific recommendations for this.
Patients with symptomatic PAD should be treated with antithrombotic therapy to reduce cardiovascular risk. Single antiplatelet therapy with either aspirin or clopidogrel is recommended.
Patients who undergo revascularization for PAD should be prescribed lifelong antithrombotic therapy. With respect to surgical revascularization, aspirin, clopidogrel, and rivaroxaban plus aspirin are all reasonable strategies.
With respect to endovascular revascularization (angioplasty with or without stenting), the standard of care in the absence of high-quality evidence is to treat patients with dual antiplatelet therapy for 1-6 months after the procedure.
There is insufficient evidence to recommend tailored antithrombotic regimens in patients undergoing conventional balloon angioplasty versus drug-eluting balloon angioplasty or bare-metal versus drug-eluting stenting.
The initial treatment period after revascularization should be followed by lifelong single antiplatelet therapy (aspirin or clopidogrel), or potentially rivaroxaban plus aspirin, given data from the COMPASS trial.
An evidence-based approach to PAD patients is essential to achieve optimal outcomes, weighing cardiovascular and limb benefits against potential bleeding risks.
For more information click on the link: 10.1016/j.jacc.2018.03.483