DAPT disruption after PCI ups MACE risk in anemic patients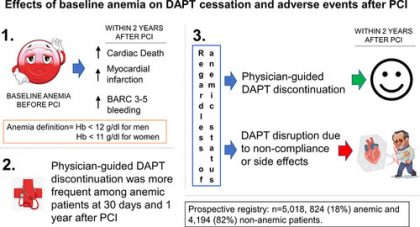 DELHI: Non-adherence to dual antiplatelet therapy (DAPT) -- but not DAPT discontinuation recommended by a physician -- in anemic patients who have undergone percutaneous coronary intervention (PCI) is associated with a higher risk of major adverse cardiovascular events (MACE) in the two years following the procedure. according to a recent study.
The study, published in the journal
Circulation,
found that baseline anemia was associated with a significantly higher adjusted risk of MACE and major bleeding. Physicians more frequently recommend DAPT discontinuation to anemic patients during the first year, and to nonanemic patients during the second year after PCI.
Anemia is a well-recognized risk factor for both bleeding and ischemic events after PCI. Roxana Mehran of the Icahn School of Medicine at Mount Sinai in New York City and colleagues conducted the study to determine the impact of baseline anemia on DAPT cessation patterns ≤2 years after PCI and the subsequent risk of clinical adverse events.
According to Roxana Mehran, the study underlines the importance of anemia as a consideration in the decision making for DAPT duration, adherence, and choices. "Anemia is obviously linked to bleeding, as anemic patients with acute blood loss during and around the time of PCI may require more aggressive intervention and treatment. Anemic patients were also at risk for important ischemic complications, such as myocardial infarction."
The researchers studied 5,018 patients who underwent PCI, of whom 824 (18%) were anemic at baseline. Anemia was defined as baseline Hb (hemoglobin) <12 g/dL for men and <11 g/dL for women.
DAPT cessation modes included physician-recommended discontinuation, temporary interruption (up to two weeks), and disruption due to bleeding or nonadherence.
Also Read: Perspective: Why Percutaneous cardiovascular intervention (angioplasty) fails?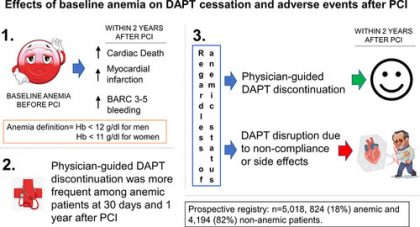 They found that:


33% of anemic and 24% of nonanemic patients were women. Anemic patients were older (mean age, 68 versus 62) and had more diabetes (51% vs. 30%), hypertension (90% vs. 76%), and prior PCI (40% vs. 36%).


At 30 days after PCI, the rate of DAPT cessation was 6.8% in patients treated with bare-metal stents, 2.2% in those treated with first-generation drug-eluting stents (DES), and 1.9% in patients treated with second-generation DES.


At two years, the cessation rates were 66.6%, 48.6%, and 51.8%, respectively.


DAPT interruption and disruption were significantly more common in anemic patients throughout two years after PCI.


physician-recommended discontinuation occurred more often in anemic patients during the first year after PCI and in nonanemic patients during the second year.


Risks of MACE and Bleeding Academic Research Consortium (BARC) 3 or 5 bleeding events were significantly higher in anemic patients at both one and two years.


Specifically, MACE occurred in 10.2% of anemic versus 6.9% of nonanemic patients at one year and in 17.8% versus 10.4% at two years. Rate for BARC 3 or 5 bleeding were 7.5% versus 1.7% at one year and 10% versus 2.8% at two years.


Compared with uninterrupted DAPT, disruption, but not interruption and physician-recommended discontinuation, was associated with a higher risk of myocardial infarction in nonanemic patients and a higher risk of both myocardial infarction and MACE in anemic patients.


baseline anemia did not modify the risk of clinical outcomes associated with any DAPT cessation modality.


Also Read: PCI better than medical therapy in stable Angina with coronary total occlusion
"Anemic patients should be educated on the importance of their DAPT early after stenting," Dr. Mehran said. "Also, there needs to be an evaluation for anemic patients who should be receiving a shorter duration of DAPT."
For detailed study log on to
https://doi.org/10.1161/CIRCINTERVENTIONS.118.007133
Source : With inputs from Circulation