PCI better than medical therapy in stable Angina with coronary total occlusion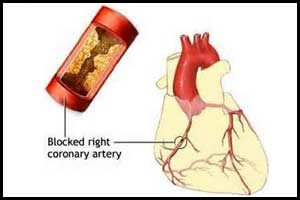 Percutaneous coronary intervention (PCI) is more beneficial to the patients with stable angina and a coronary total occlusion (CTO) as compared with optimal (OMT) alone, according to a new study published in the European Heart Journal.
The study was conducted by Dr. Gerald S. Werner and colleagues, to compare the benefit of PCI vs. optimal medical therapy (OMT) on the health status of patients with at least one CTO.
PCI is a non-surgical procedure used for the treatment of narrowing (stenosis) of the heart's coronary arteries found in coronary artery disease. It is primarily used for opening a blocked coronary artery and restore the blood flow through it. But, its clinical value for CTOs is not established by randomized trials.
Complete obstruction of the coronary artery for 30 or more days is called CTO. It is caused by the heavy accumulation of atherosclerotic plaque within the artery. Its symptoms include angina, jaw pain, indigestion, nausea and unusual fatigue.
For the study, 396 patients were enrolled in a prospective randomized, multicentre, open-label, and controlled clinical trial to compare the treatment by PCI with OMT with a 2:1 randomization ratio. The primary endpoint was the change in health status assessed by the Seattle angina questionnaire (SAQ) between baseline and 12 months follow-up. Fifty-two percent of patients have multi-vessel disease in whom all significant non-occlusive lesions were treated before randomization. An intention-to-treat analysis was performed including 13.4% failed procedures in the PCI group and 7.3% cross-overs in the OMT group.
At 12 months, a greater improvement of SAQ subscales was observed with PCI as compared with OMT for angina frequency, and quality of life, reaching the prespecified significance level of 0.01 for the primary endpoint. The physical limitation was also improved in the PCI group. Complete freedom from angina was more frequent with PCI 71.6% than OMT 57.8%. There was no periprocedural death or myocardial infarction. At 12 months, major adverse cardiac events were comparable between the two groups.
Based on the study, the authors concluded that percutaneous coronary intervention leads to a significant improvement of the health status in patients with stable angina and a CTO as compared with OMT alone.
Source : With inputs from EHJ