Perspective: Why Percutaneous cardiovascular intervention (angioplasty) fails?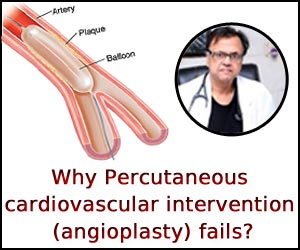 Since 1977, with the inception of balloon angioplasty, the treatment of cardiovascular disease has emerged into a new era of success on the management of the disease process. The coronary stenosis which was thought to be an irreparable disease and could have been only bypassed was successfully opened up by percutaneous balloon dilatation and resulted in a successful recanalization within minutes. Since then, hundreds of thousands of patients have been benefitted from this innovative procedure leading to an increased life expectancy and quality of life.
Considering its efficiency, enormous innovation has gone into perfecting the procedure. Introduction of drug-eluting stents, better balloons, specialty wires and mechanical circulatory support and a lot more have made the procedure extremely safe as well as possible in more and more difficult lesions and now percutaneous coronary intervention (PCI) has practically surpassed the coronary bypass surgery (CBG) in number as well as safety.
But, what we expect from angioplasty and where we are failing is that we are not able to stop the incidence of re-intervention or become equivalent to CBG for the same.
We are not able to prevent the incidence of per procedural myocardial infarction and ALSO successfully prevent future myocardial infarction.
The incidence of re-intervention is directly related to the incidence of re-stenosis which remains the Achilles heel of the angioplasters. Better stent implantation and the concept of bigger is better remains the age-old concept of a successful angioplasty and remains true even for fighting the biggest menace of the procedure.
Lesion pre-preparation with adequate dilatation had been the primary requirement of the easy deliverability as well as optimal stent expansion. But, recently better deliverable platforms are allowing the stents to be placed without adequate lesion preparation and the effort to get the adequate lumen gain only by post-dilatation has been not found to be sufficient. So, to avoid or minimize stent re-stenosis we need to go back to optimal lesion preparation.
A large final cross-section area is not sufficient we need to achieve a symmetry because with the kissing balloon dilation or asymmetrical plaque a round shape of the final artery is not achieved and the impact of shear stress into asymmetric artery causes re-stenosis. The newer imaging techniques like IVUS, OCT though are available but I don't believe that I shall be using these imaging techniques routinely.
Imaging can guide us to locate plaque and vessel structure whenever it is used and shall guide us about the chosen procedure/chosen device and equipment for a successful and optimal precision angioplasty.
Peri-procedural myocardial infarction- while lesion preparation and optimal stent implantation are important for avoiding re-stenosis they become the very reason for a peri-procedural myocardial infarction. The best way to avoid peri-procedural myocardial infarction is to limit stent implantation only by putting stents in real needs. The stent should be implanted only when it is physiologically important in causing ischemia in a large territory or causing intractable symptoms interfering with the quality of life. The cause of stent implantation should be only if we are adding the quantity of life to the patients or we are adding quality to the life of the patient. Severe intractable symptoms, low-grade stress test,
Presence of disease-causing large ischemic territory proven by the Use of pre-intervention CTFFR or pre-intervention FFR, IFR can guide the angioplasty in all those who actually need it.
The identification and treatment of a vulnerable plaque which can lead to prevention of the next myocardial Infarction is another issue of the failure of PCI. After PCI the residual risk leading to a second myocardial Infarction has to be more adequately dealt with medical treatment. The residual risk, whether it is a lipid risk or the inflammatory risk should be aggressively addressed to get the maximum gain of t6he wonderful procedure of the angioplasty.
Dr. Prem Aggarwal is a renowned cardiologist and founder of Medical Dialogues.