Dairy products provide protection against diabetes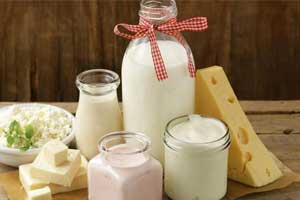 Higher blood and fat tissue levels of three fatty acids correlating with intake of high-fat dairy food are associated with a lower risk of type 2 diabetes (T2D), according to a new study published in the journal PLOS Medicine.
Fumiaki Imamura, MRC Epidemiology Unit, University of Cambridge School of Clinical Medicine, Cambridge, UK, and colleagues conducted the study to investigate prospective associations of circulating or adipose tissue odd-chain fatty acids 15:0 and 17:0 and trans-palmitoleic acid, t16:1n-7, as potential biomarkers of dairy fat intake, with incident type 2 diabetes.
For the study, the researchers analyzed data from 16 pooled international cohorts with more than 60,000 people from the Fatty Acids and Outcomes Research Consortium (FORCE) project. The 63,682 participants without known diabetes were middle-aged or older, with a mean baseline age of 49 to 76 years.
The participants had baseline measurements of three fatty acids — pentadecanoic acid (15-carbon saturated fatty acid, 15:0), heptadecanoic acid (17:0), and trans-palmitoleic acid (t16:1n7) — that reflect consumption of fat from dairy products such as milk and cheese.
The researchers used gas chromatography to determine levels of 15:0, 17:0, and t16:1n7 in tissue samples and blood components. The relative concentrations of these three fatty acids were generally low (0.1% to 0.5 mol% of total fatty acids).
Key Findings:


During up to 20 years of follow-up, 23.8% of the participants developed T2D.


The people with the highest levels of all three fatty acids (highest quintile) had a 35% lower risk of developing T2D during follow-up than people in the lowest quintile.


Higher concentrations of 15:0 and 17:0, t16:1n7, or all three, were associated with a lower incidence of type 2 diabetes.


In exploratory analyses, similar associations for 15:0, 17:0, and the sum of all three fatty acids were present in both genders but stronger in women than in men.


"Our results provide the most comprehensive global evidence to date about dairy fat biomarkers and their relationship with lower risk of type 2 diabetes," Imamura said in a statement by the UK Medical Research Council.
"We're aware that our biomarker work has limitations and requires further research on underlying mechanisms," he conceded, "but at the very least, the available evidence about dairy fat does not indicate any increased risk for the development of type 2 diabetes."
Prior studies have suggested that eating cheese or yogurt may be linked with a lower risk of incident T2D, but research based on self-documented food intake may have recall bias, and dairy fat may be "hidden" in some foods and therefore not reported, Imamura and colleagues write.
However, previous work suggests that levels of 15:0, 17:0, and t16:1n7 may be a good surrogate for dietary intake of fat from dairy products, as levels of these fatty acids are increased when people report that they consume a lot of high-fat dairy products, and the levels decrease when people switch from high-fat to low-fat dairy products.
Thus, these two distinct fatty-acid classes (the odd-chain saturated fats 15:0 and 17:0; and the natural ruminant trans-fat t16:1n7) "at least partly reflect dairy fat consumption" from multiple dietary sources without relying on people's memory, according to the researchers.
However, the study does have some limitations, the researchers acknowledge.
"Despite the several advantages of evaluating fatty acid biomarkers," they caution, "the results cannot distinguish between different types of dairy foods (eg, milk, cheese, yogurt, others), which could have differential effects."
Moreover, although these biomarkers reflect dairy fat consumption, their levels could be influenced by other factors, possibly unrelated to dairy intake.
Also, data from nonwhite populations were limited, so further research is needed among more diverse communities where other types of dairy products may be consumed with different food preparation methods.
"Nevertheless, the study's novel finding supports the need for additional clinical and molecular research to elucidate the potential effects of these fatty acids on glucose-insulin metabolism, and the potential role of selected dairy products for the prevention of type 2 diabetes," concluded the authors.
For further reference follow the link:
https://doi.org/10.1371/journal.pmed.1002670
Source : With inputs from PLOS Medicine