Yogurt may ward off colon cancer in men by lowering adenomas risk: BMJ Study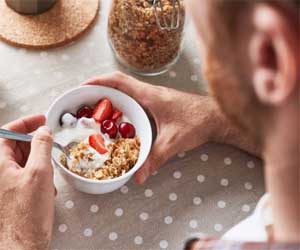 USA: Yogurt may help in the prevention of bowel cancer (colon or colorectal cancer) in men, finds a recent study.
The study, published in the BMJ Journal Gut found that men who consumed yogurt two or more times in a week were at lower risk of developing precancerous growth known as adenomas that may progress into colon cancer as compared to men who did not consume yogurt. The association was stronger for adenomas that are highly likely to become cancerous and those located in the colon rather than in the rectum.
The researchers, however, did not observe the same cancer-fighting benefit of yogurt for women.
Previous studies have shown that an increased intake of yogurt may lower the risk of colon cancer by changing the type and volume of bacteria in the gut (microbiome). However, no studies have till now established an association between yogurt consumption and adenomas, as precursors of colon cancer.
Xiaobin Zheng, Washington University School of Medicine, St. Louis, Missouri, USA, and colleagues evaluated the association between yogurt intake and risk of conventional adenoma and serrated lesion, among 32 606 men in the Health Professionals Follow-up Study (HPFS) and 55 743 women in the Nurses' Health Study (NHS), who have undergone lower endoscopy between 1986 and 2012. After every 4 years, they provided detailed information on lifestyle and diet including the amount of yogurt they ate.
Also Read: Turmeric pill scientifically formulated for oral use for ulcerative colitis, colon cancer
Key findings of the study include:


5811 adenomas in men and 8116 adenomas in women were found.


In men, compared with individuals without yogurt consumption, men who consumed ≥2 servings/week were 19% less likely to develop a conventional adenoma.


This lower risk was even greater (26%) for adenomas that were highly likely to become cancerous, and for those located in the colon rather than in the rectum.


While no obvious association was seen for men with a potentially more dangerous type of adenoma (serrated), a trend towards reduced risk was seen for those measuring 1 or more cm, which is considered to be large.


No such associations between yogurt intake and the development of adenomas were evident among women.


Also Read: Even short session of high-intensity exercise reduces colon cancer growth
The researchers point out that Lactobacillus bulgaricus and Streptococcus thermophilus, two bacteria commonly found in live yogurt, may lower the number of cancer-causing chemicals in the gut.
The stronger link seen for adenomas growing in the colon may partly be due to the lower acidity (pH) in this part of the gut, making it a more hospitable environment for these bacteria, explained the authors. Alternatively, yogurt may have anti-inflammatory properties and may reduce the 'leakiness' of the gut, as adenomas are associated with increased gut permeability, they suggest.
Source : Press Release