................................ Advertisement ................................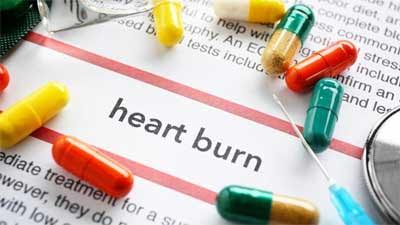 PPI group had a 17% increased risk of death compared with the H2 blocker group.
USA: Intake of proton pump inhibitors (PPIs) — drugs used for the treatment of acid reflux, ulcers, and heartburn — are associated with an increased risk of premature death from cardiovascular disease, chronic kidney disease, and upper gastrointestinal cancer. The results show a consistent excess of cause-specific mortality even among patients without documented gastrointestinal indications for acid suppression drugs.
The study further found that such risk increases with the duration of PPI use, even when the drugs are taken at low doses.
................................ Advertisement ................................
These findings, published in the journal The BMJ have public health implications because of the high prevalence of PPIs use. This underscores the important message that PPIs should be used only when medically indicated and for the minimum duration necessary. 
................................ Advertisement ................................
Proton pump inhibitors are widely used either as a prescription or over-the-counter drugs for reducing the production of stomach acid. PPIs are sold under brand names such as Prevacid, Prilosec, Nexium, and Protonix. Several studies have linked the use of PPIs with a number of adverse effects including pneumonia, gastrointestinal cancer, and acute kidney injury. Some of these adverse effects can lead to death. Some recent studies have described an excess risk of mortality among people taking PPIs. However, However, little has been known about the specific causes of death attributed to the drugs.
Ziyad Al-Aly, assistant professor, Washington University School of Medicine in St. Louis and Veterans Affairs St. Louis Health Care System, and colleagues conducted the study to estimate all-cause mortality and cause-specific mortality among patients taking PPIs. 
For the study, researchers sifted through de-identified medical records in a database maintained by the U.S. Department of Veterans Affairs. Examining medical data acquired from July 2002 to June 2004, the researchers identified 157,625 people — mostly Caucasian men ages 65 and older — who had been newly prescribed PPIs, and 56,842 people who had been newly prescribed another class of acid-suppression drugs known as H2 blockers. They followed the patients — 214,467 in total — for up to 10 years.
Also Read: Antibiotics and PPIs linked to increased risk of infectious diarrhea in children
They found that:
PPI group had a 17% increased risk of death compared with the H2 blocker group.
There were 45.20 excess deaths per 1000 patients taking PPIs.
PPI use was associated with deaths caused by cardiovascular disease, chronic kidney disease, and upper gastrointestinal cancer. Specifically, 15 per 1,000 of the PPI users died from heart disease; four per 1,000 from chronic kidney disease, and two per 1,000 from stomach cancer.
Death rates due to cardiovascular disease were 88 among the PPI group and 73 among the H2 blockers group. For stomach cancer, death rates were six in the PPI group and four in the H2 blockers group. Death rates due to chronic kidney disease were eight and four in the PPI and H2 blocker groups, respectively.
Among patients without documented indication for acid suppression drugs (n=116 377), taking PPIs was associated with excess mortality due to cardiovascular disease (22.91, 11.89 to 33.57), chronic kidney disease (4.74, 1.53 to 8.05), and upper gastrointestinal cancer (3.12, 0.91 to 5.44)
Formal interaction analyses suggested that the risk of death due to these sub causes was not modified by a history of cardiovascular disease, chronic kidney disease, or upper gastrointestinal cancer.
Taking PPIs was not associated with an excess burden of transportation-related mortality and death due to peptic ulcer disease (as negative outcome controls).
More than half of the people taking PPIs did so without a medical need, although the data did not indicate why the patients had been prescribed PPIs. Among this group, PPIs-related deaths were more common, with almost 23 people per 1,000 dying from heart disease, almost five per 1,000 from chronic kidney disease, and three from stomach cancer.
Also Read: PPIs induce Neutropenia and thrombocytopenia: a case report
"Taking PPIs over many months or years is not safe, and now we have a clearer picture of the health conditions associated with long-term PPI use," said Al-Aly.
"Given the millions of people who take PPIs regularly, this translates into thousands of excess deaths every year," said Al-Aly, a nephrologist, and clinical epidemiologist."Most alarming to me is that serious harm may be experienced by people who are on PPIs but may not need them. Overuse is not devoid of harm."
The U.S. Food and Drug Administration has expressed interest in data presented by Al-Aly's research team. "PPIs sold over the counter should have a clearer warning about the potential for significant health risks, as well as a clearer warning about the need to limit the length of use, generally not to exceed 14 days," he said. "People who feel the need to take over-the-counter PPIs longer than this need to see their doctors."
Al-Aly's research team will continue to study adverse health effects related to PPIs, in particular regarding those at the highest risk.
"A lot of people may be taking PPIs unnecessarily," Al-Aly added. "These people may be exposed to potential harm when it is unlikely the drugs are benefiting their health. Our study suggests the need to avoid PPIs when not medically necessary. For those who have a medical need, PPI use should be limited to the lowest effective dose and shortest duration possible."
For detailed study follow the link: https://doi.org/10.1136/bmj.l1580
Medha Baranwal joined Medical Dialogues as an Editor in 2018 for Speciality Medical Dialogues. She covers several medical specialties including Cardiac Sciences, Dentistry, Diabetes and Endo, Diagnostics, ENT, Gastroenterology, Neurosciences, and Radiology. She has completed her Bachelors in Biomedical Sciences from DU and then pursued Masters in Biotechnology from Amity University. She has a working experience of 5 years in the field of medical research writing, scientific writing, content writing, and content management. She can be contacted at medha@medicaldialogues.in. Contact no. 011-43720751
To know about our editorial team click here
................................ Advertisement ................................