Vitamin D, Iron combo not better at reducing depression than vitamin D alone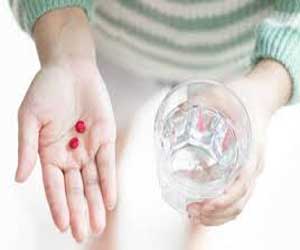 Iran: Iron plus vitamin D co-supplementation has no significant benefit over vitamin D alone in reducing depression or anxiety symptoms in anaemic females with vitamin D insufficiency, according to a recent study published in the Medical Journal of The Islamic Republic of Iran (MJIRI).
Low levels of 25-hydroxyvitamin D (25(OH)D) have been related to depression and anxiety. It seems that anaemia is associated with vitamin D deficiency. Mohammadreza Vafa, School of Nutrition & Food Science, Isfahan University of Medical Sciences, Isfahan, Iran, and colleagues aimed to evaluate the effects of iron-vitamin D co-supplementation versus vitamin D alone on depression scores in anaemic females with low levels of serum 25-hydroxyvitamin D.
Vitamin D is essential for skeletal growth and bone health, and deficiency can result in rickets, soft bones, and seizures or heart failure as a result of a lack of calcium. Many studies are finding a connection between low serum vitamin D levels and an increased risk of certain types of cancers, autoimmune disease, neurological disease, psychiatric disorders, insulin resistance, and cardiovascular disease.
The randomized controlled trial was conducted on 80 premenopausal women recruited from primary health care centres between May 2015 and October 2015. Anaemic women with low vitamin D concentrations were randomized to receive either 1000 IU/d vitamin D plus 27 mg/d iron (D-Fe) or vitamin D plus placebo supplements (D-P) for 12 weeks. Depressive and anxious symptoms were evaluated with the Beck Depression Inventory (BDI) with subscales 1-13 and 14-21 and Beck Anxiety Inventory (BAI).
Also Read: In children with IBD, IV iron effectively treats iron-deficiency anemia
Key findings include:


The serum concentrations of 25(OH)D were increased significantly in both groups at the end of the study.


In both groups, there was a significant improvement in total BDI, the BDI subscale, and the BAI scores.


No differences were found between groups.


Also Read: Vitamin D improves mental health in patients on treatment for opioid dependence
"Simultaneous supplementation of vitamin D and iron does not yield added benefits for depression improvement in females with anaemia and vitamin D insufficiency, compared with vitamin D alone," wrote the authors.
"Both depressive and anxiety symptoms decreased after 12 weeks, but there were no significant differences between groups. The public health importance of our findings remains equivocal as long as the numbers of trials are scarce," they concluded.
To read the complete study follow the link: http://mjiri.iums.ac.ir/article-1-4038-en.html