Vitamin D a good predictor of clinical severity of bronchiectasis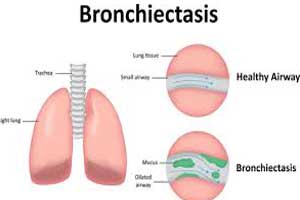 ITALY: Vitamin D is a good predictor of clinical and radiological severity of bronchiectasis, according to a recent study published in the journal Respiratory Medicine.
Vitamin D is a hormone synthesized in the skin in the presence of sunlight. Like other hormones, vitamin D plays a role in a wide range of processes in the body. Oral intake from natural and fortified foodstuffs, as well as from supplementation, adds to vitamin D levels in the individual. Like other hormones, vitamin D plays a role in a wide range of processes in the body. Sufficient vitamin D levels are important not only for a healthy skeleton but also for a healthy immune system.
Bronchiectasis is a complex respiratory disease characterized by damaging of the lungs' airways, making mucus clearance difficult. Vitamin D plays a role in the infective disease by modulating the inflammation. Bronchiectasis patients are frequently deficient in vitamin D which is related to a decline in lung function.
For the purpose, the researchers analyzed 57 patients consisting of 17 males and 40 females between October 2017 and March 2018. Patients with cystic fibrosis, traction bronchiectasis and reporting Vitamin D supplementation were excluded. They then calculated the Bronchiectasis severity index (BSI) and Bhalla score, blood inflammatory markers, and Vit. D was measured and lung function tests were performed.
Also Read: Low vitamin D levels after colorectal cancer surgery leads to higher deaths
The researchers found that:


Vitamin D was deficient in 64% of patients, sufficient in 36% and normal in 7%.


Mean BSI is 7.5 ± 5 and mean Bhalla score is 16 ± 4. Vitamin D levels correlate with Bhalla score and BSI.


The correlation appears to be stronger than other markers of inflammation such as ESR and CRP.


Also Read: BTS Updates Guideline for bronchiectasis in adults
"We consider Vitamin D as a good predictor of clinical-radiological severity of bronchiectasis irrespective of the underlying etiology," the authors concluded based on the findings.
For detailed study log on to https://doi.org/10.1016/j.rmed.2019.01.009
Source : With inputs from Respiratory Medicine