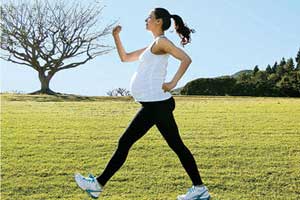 Often, questions are asked about the exercises women should perform during pregnancy for the well-being of both mother and child.
The Society of Obstetricians and Gynaecologists of Canada (SOGC) and Canadian Society for Exercise Physiology (CSEP) have jointly released Canadian Guideline for Physical Activity throughout Pregnancy with an objective to provide guidance for pregnant women, and obstetric care and exercise professionals, on prenatal physical activity.
The guideline is published in the British Journal of Sports Medicine and Journal of Obstetrics and Gynaecology Canada. 
Also Read: Both too much or little weight gain during pregnancy not good for baby
Key Recommendations:
All women without contraindication should be physically active throughout pregnancy.
Pregnant women should accumulate at least 150 min of moderate-intensity physical activity each week to achieve clinically meaningful reductions in pregnancy complications.
Physical activity should be accumulated over a minimum of 3 days per week; however, being active every day is encouraged.
Pregnant women should incorporate a variety of aerobic exercise and resistance training activities to achieve greater benefits. Adding yoga and/or gentle stretching may also be beneficial.
Pelvic floor muscle training (PFMT) (eg, Kegel exercises) may be performed on a daily basis to reduce the odds of urinary incontinence. Instruction on the proper technique is recommended to obtain optimal benefits.
Pregnant women who experience light-headedness, nausea or feel unwell when they exercise flat on their back should modify their exercise position to avoid the supine position.
Also Read: High prolactin level provides protection against diabetes in women
Contraindications
All pregnant women can participate in physical activity throughout pregnancy with the exception of those who have contraindications (listed below). Women with absolute contraindications may continue their usual activities of daily living but should not participate in more strenuous activities. Women with relative contraindications should discuss the advantages and disadvantages of moderate-to-vigorous intensity physical activity with their obstetric care provider prior to participation.
The following are absolute contraindications to exercise:
Ruptured membranes
Premature labor
Unexplained persistent vaginal bleeding
Placenta praevia after 28 weeks' gestation
Pre-eclampsia
Incompetent cervix
Intrauterine growth restriction
High-order multiple pregnancies (eg, triplets)
Uncontrolled type I diabetes
Uncontrolled hypertension
Uncontrolled thyroid disease
Other serious cardiovascular, respiratory or systemic disorder
The following are relative contraindications to exercise:
Recurrent pregnancy loss
Gestational hypertension
A history of spontaneous preterm birth
Mild/moderate cardiovascular or respiratory disease
Symptomatic anemia
Malnutrition
Eating disorder
Twin pregnancy after the 28th week
Other significant medical conditions
Safety precautions for prenatal physical activity
Avoid physical activity in excessive heat, especially with high humidity.
Avoid activities which involve physical contact or danger of falling.
Avoid scuba diving
Lowlander women (ie, living below 2500 m) should avoid physical activity at high altitude (>2500 m). Those considering physical activity above those altitudes should seek supervision from an obstetric care provider with knowledge of the impact of high altitude on maternal and fetal outcomes.
Those considering athletic competition or exercising significantly above the recommended guidelines should seek supervision from an obstetric care provider with knowledge of the impact of a high-intensity physical activity on maternal and fetal outcomes.
Maintain adequate nutrition and hydration—drink water before, during and after physical activity.
Know the reasons to stop physical activity and consult a qualified health care provider immediately if they occur.
Reasons to stop physical activity and consult a healthcare provider
Persistent excessive shortness of breath that does not resolve on rest
Severe chest pain
Regular and painful uterine contractions
Vaginal bleeding
Persistent loss of fluid from the vagina indicating rupture of the membranes
Persistent dizziness or faintness that does not resolve on rest
How to start being active during pregnancy?
Previously inactive women are encouraged to start physical activity in pregnancy but may need to begin gradually, at a lower intensity and increase the duration and intensity as their pregnancy progresses.
It may be difficult for some women to follow these Guidelines without additional support or advice. Obstetric care professionals and exercise professionals must carefully consider the potential costs and perceived barriers to prenatal physical activity to facilitate participation. These Guidelines may be appropriate for women with a disability or medical condition; however, an obstetric care professional should be consulted for additional guidance. Although the majority of the evidence base for these recommendations used supervised exercise, physical activity during pregnancy does not need to be done in a supervised setting or with any specific equipment. For those with financial or other barriers to participating in organized exercise, activities as simple as walking can have positive benefits.
For further reference follow the link: http://dx.doi.org/10.1136/bjsports-2018-100056