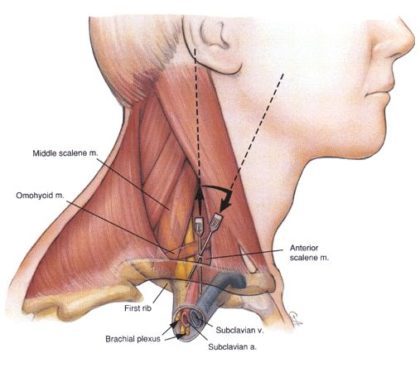 Ultrasound-guided isolated brachial plexus block results in good vasodilation and achieves good immediate and long-term patency in arteriovenous (AV)  fistula surgery, according to a study published in the Indian Journal of Anaesthesia.
Arteriovenous (AV) fistula surgery is commonly performed for AV access for hemodialysis. However, the ideal anaesthetic technique of choice is still unclear.
Palaniappan and colleagues conducted a prospective, observational study to assess operative conditions, vascular patency, and complication rate following AV fistula surgery with isolated brachial plexus block among end-stage renal disease (ESRD) patients.
The study included 214 patients undergoing AV fistula surgery under isolated supraclavicular brachial plexus block. The diameters of the vessels both before and after the block and the patency of the AV fistula in the immediate postoperative period and after 3 months were assessed using ultrasound Doppler. The change in the vessel diameter both before and after the block was compared.
Key study findings:
The mean brachial artery diameter increased by 0.09 mm, and cephalic vein diameter at the elbow, radial artery, and cephalic vein at wrist diameters increased by 0.5 mm, 0.08 mm, and 0.48 mm respectively.
Overall, 93.45% had immediate patency, 85.51% had a primary, and 47.19% had functional patency at 3 months.
In the brachiocephalic group, 96.24% had immediate patency, 87.21% had the primary, and 27.06% had functional patency at 3 months.
Among the radiocephalic group, 91.35% had immediate patency, 82.71% had primary patency, and 71.60% had functional patency at 3 months.
Read Also: Supraclavicular brachial plexus block – Spinal Anaesthesia of Upper Limb– can be performed more safely

The study concluded that the current findings prove that ultrasound-guided brachial plexus block results in good vasodilatation in the distal arm, and thereby create optimal operable conditions for AV fistula surgery. In about half of the subjects, the functional patency is maintained after 3 months. The functional patency is considerably better with brachiocephalic fistulas compared to radiocephalic fistulas.
The brachial plexus is a network of nerves formed by the anterior rami of the lower four cervical nerves and first thoracic nerve (C5, C6, C7, C8, and T1). Thisplexus extends from the spinal cord, through the cervicoaxillary canal in the neck, over the first rib, and into the armpit.

For reference log on to 10.4103/ija.IJA_293_18