Supraclavicular brachial plexus block – Spinal Anaesthesia of Upper Limb– can be performed more safely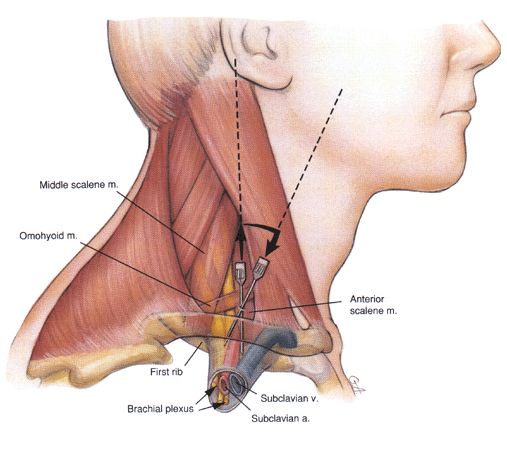 Supraclavicular brachial plexus block – "the spinal anaesthesia of upper limb" – can be performed more safely - Dr. Tuhin Mistry, Dr. Vandana Mangal
"
Man uses his arms and hands constantly and as a result he exposes his arms and hands to injury constantly. Man also eats constantly. Man's stomach is never really empty. The combination of man's prehensibility and his unflagging appetite keeps a steady flow of patients with injured upper extremities and full stomachs streaming into hospital emergency rooms. This is why the brachial plexus is so frequently the anesthesiologist's favorite group of nerves
"
- Classical File, Survey of Anesthesiology, David Little, 1963
For the same reason, to offer definitive operative interventions safely at the earliest, it is advisable to do them under regional anaesthesia. Supraclavicular brachial plexus block is considered as "spinal anaesthesia of upper extremity", thus it is the most favoured technique for upper limb surgeries in daily anaesthesia practice. It not only provides dense intraoperative surgical anaesthesia but also extends analgesia into the post-operative period. Moreover, this block ensures reliable anaesthesia, shorter hospital stay and smooth convalescence as a part of multimodal approach. This block can be performed by conventional paraesthesia technique, peripheral nerve stimulator(PNS) and ultrasound(USG) guided techniques. The conventional time-tested landmark guided techniques are associated with significant incidence of complications like accidental pneumothorax, inadvertent vascular puncture, unintended inter-scalene block and neurological complications. Possibilities of these undesired complications can be reduced substantially if the anaesthesiologist performing this block acquire the knowledge of depth of the plexus and its variations with demographic profile.
USG along with PNS guided technique is considered as gold standard as it improves the success rate as well as decrease the incidence of complications. The incidence of pneumothorax is substantially reduced from 6.1% to 0.06% with use of USG. Unfortunately, not everyone has access to it. So, majority still use conventional and PNS guided techniques. Hence, for convenience and minimizing the complication rate for those using these techniques, we conducted a study on Indian population.
In this study, we tried to assess the depth at which brachial plexus is encountered in supraclavicular fossa to suggest the minimum length of needle required to perform the block successfully. Brachial plexus was scanned in supraclavicular fossa with a high-frequency linear probe and the distances from skin to the most superficial (Shortest Distance) and deepest (Longest Distance) hypoechoic neural elements were measured.
We found significant correlation between weight, body mass index and various distances between skin and the neural element. We observed that in majority of patients, the range of shortest and longest distances of neural element from skin were 0.4–0.8 cm and 0.9–1.5 cm respectively. The difference between the two distances is less than 1 cm.
So, if we are careful in manipulating the needle in not more than 1 cm during the procedure after eliciting paraesthesia, we will tend to avoid causing pneumothorax.
You can read the full article by clicking on the following link:
Mistry T, Mangal V, Sharma G, Agrawal A. Assessment of variation in depth of brachial plexus using ultrasound for supraclavicular brachial plexus block in patients undergoing elective upper limb surgery. Indian J Anaesth 2016;60:393-7.
Available at:
http://www.ijaweb.org/text.asp?2016/60/6/393/183385
Source : http://www.ijaweb.org/text.asp?2016/60/6/393/183385