Topical capsaicin from chilli peppers lowers knee osteoarthritis pain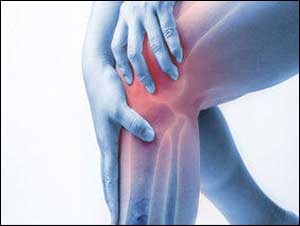 USA: Chili pepper hailed for many years for its therapeutic properties has one more advantage to its kit, a recent study has found it to be beneficial for patients with knee osteoarthritis (OA). According to the study, the use of high-concentration topical capsaicin -- an active component of chili peppers -- led to reduced pain, a longer duration of clinical response, and was well tolerated in knee OA patients.
The study was presented at the annual meeting of the American College of Rheumatology (ACR).
There is a considerable unmet need for treatment of osteoarthritic knee pain that does not require regular daily use, does not carry gastrointestinal risk (e.g. NSAIDs), addiction risk (e.g. opiates) or liver risk (e.g. acetaminophen) and can safely provide long-lasting pain relief after a brief course of treatment.
The use of topical capsaicin has been recommended by ACR for the relief of hand and knee OA. However, there are certain issues with the use of low-dose capsaicin such as the need for multiple applications and burning, stinging at application sites. The repeated capsaicin results in depletion of pain neurotransmitters and a reduction in nerve fibers in a dose-dependent fashion. Higher doses of topical capsaicin are a potential topical treatment for OA pain relief, but their tolerability is low that has limited the ability to maximize the analgesic effect of capsaicin.
Tim Warneke, Vizuri Health Sciences, LLC, Columbia, MD, and colleagues conducted a phase 2, multicenter, double-blind, parallel-group, a vehicle-controlled trial where 120 patients with knee OA were randomized in the ratio 1:1:1 ratio to receive 5% capsaicin topical liquid (CGS-200-5), 1% capsaicin topical liquid (CGS-200-1), or vehicle (CGS-200-0) and then followed upto 90 days.
According to Warneke, the CGS-200 vehicle was developed to mitigate the burning, stinging pain of capsaicin. It allows 5% concentration to be well tolerated, which opens the door for increased efficacy, including durability of response. Treatment was applied for 1 hour to both knees on 4 consecutive days (Study Days 1-4) by the subject under clinic supervision and then washed off.
Clinical efficacy and safety assessments were made on Study Days 5, 19, 35 (the primary endpoint was Day 35 change in WOMAC pain score from baseline), 64, and 94. The modified intent to treat (mITT) subset of subjects was used for all efficacy analyses.
Read Also: Chilli consumption may lower death risk from heart attack, stroke
Key findings of the study include:


CGS-200-5, but not CGS-200-1, met the primary Day 35 OAKP WOMAC pain efficacy endpoint compared to vehicle and post-hoc analysis showed statistical separation from CGS-200-0 (Vehicle) on Days 64 and 94.


Post-hoc analysis showed a statistical difference in WOMAC OA total scores between both treatment groups and Vehicle at Days 35, 64 and 94.


The proportion of subjects with a durable clinical response (WOMAC pain reductions > 50% on all study day visits minus one) was higher in the CGS-200-5 group at all visits.


A slightly larger percentage of CGS-200-5 patients reported > 1 TEAEs (all were mild or moderate in severity) compared to the CGS-200-0 or CGS-200-1 arms, with little difference between groups in the types of TEAEs. Application site pain (mostly mild to moderate) was observed in all treatment groups, with a higher proportion of subjects in the CGS-200-5 group experiencing pain than the CGS-200-5 group.


The mean tolerability AUCs in both active treatment groups decreased with each consecutive dosing day.


Read Also: Capsaicin from chilli peppers slows progression of Lung Cancer
The study, "A Phase 2 Double-Blind Clinical Trial to Examine the Comparative Effects on Osteoarthritic Knee Pain of CGS-200-1 (1% Capsaicin Topical Liquid), CGS-200-5 (5% Capsaicin Topical Liquid), and CGS-200-0 (Vehicle, No Capsaicin)," was presented at the 2019 ACR/ARP Annual Meeting.
Source : With inputs from 2019 ACR/ARP Annual Meeting