Chilli consumption may lower death risk from heart attack, stroke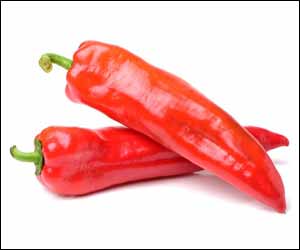 Italy: Eating chili pepper four times a week significantly lowers the risk of death from heart attack, stroke, a recent study published in the Journal of the American College of Cardiology has found. People who consumed it on a regular basis have a mortality risk for every cause reduced by 23% compared to those who do not like it.
Chili pepper, hailed for many years for its therapeutic properties, is a usual part of a traditional Mediterranean diet. Yet there is scarce data on the association between the intake of chilli pepper and mortality risk, with a lack of studies from Mediterranean populations.
Capsaicin, the active compound in hot peppers that creates the spicy sensation, has been found in previous research to have a myriad of health benefits, including boosting metabolism and lowering blood pressure.
Marialaura Bonaccio, Department of Epidemiology and Prevention, IRCCS Neuromed, Via dell'Elettronica, Pozzilli, Italy, and colleagues examined the association between chilli pepper consumption and death risk in a large sample of the adult Italian population. The study also accounted for biological mediators involved in the association.
"An interesting fact - says Bonaccio - is that protection from mortality risk was independent of the type of diet people followed. In other words, someone can follow the healthy Mediterranean diet, someone else can eat less healthily, but for all of them chili pepper has a protective effect".
The study, carried out in Italy where chilli is a common ingredient, involved 22,811 men and women enrolled in the Moli-sani Study cohort (2005 to 2010). Chilli pepper intake was estimated by the EPIC (European Prospective Investigation Into Cancer) Food Frequency Questionnaire and categorized as none/rare consumption, up to 2 times/week, >2 to ≤4 times/week, and >4 times/week. Participants' health status and eating habits were monitored over eight years.
Key findings of the study include:


Over a median follow-up of 8.2 years, a total of 1,236 deaths were ascertained.


Multivariable hazard ratios (HRs) for all-cause and cardiovascular disease (CVD) mortality among participants in the regular (>4 times/week) relative to none/rare intake were 0.77 and 0.66 respectively.


Regular intake was also inversely associated with ischemic heart disease (HR: 0.56) and cerebrovascular (HR: 0.39) death risks.


The association of chili pepper consumption with total mortality appeared to be stronger in hypertension-free individuals.


Among known biomarkers of CVD, only serum vitamin D marginally accounted for such associations.


"We see chilli pepper, a fundamental component of our food culture, as hanging on Italian balconies, and even depicted in jewels. Over the centuries, beneficial properties of all kinds have been associated with its consumption, mostly on the basis of anecdotes or traditions, if not magic. It is important now that research deals with it in a serious way, providing rigor and scientific evidence. And now, as already observed in China and in the United States, we know that the various plants of the capsicum species, although consumed in different ways throughout the world, can exert a protective action towards our health". said Licia Iacoviello, University of Insubria, Varese, Italy.
"In a large adult Mediterranean population, regular consumption of chili pepper is associated with a lower risk of total and CVD death independent of CVD risk factors or adherence to a Mediterranean diet. Known biomarkers of CVD risk only marginally mediate the association of chili pepper intake with mortality," concluded the authors.
The study, "Chili Pepper Consumption and Mortality in Italian Adults," is published in the Journal of the American College of Cardiology.
Source : Journal of the American College of Cardiology