Sugar-sweetened beverages increase risk of chronic kidney disease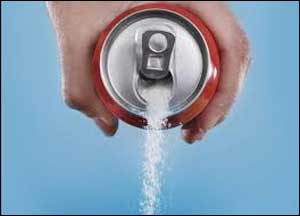 Higher consumption of sugar-sweetened beverages may lead to chronic kidney disease (CKD).
Washington, DC: Higher consumption of sugar-sweetened beverages including sweetened fruit drinks and soda among African-Americans in a community-based cohort was associated with a greater likelihood of developing chronic kidney disease (CKD), according to a new study.
Findings of the study, published in the Clinical Journal of the American Society of Nephrology (CJASN), contribute to the growing body of evidence that point towards the negative health impact of sugar-sweetened beverages consumption.
The Dietary Guidelines for Americans and the American Heart Association recommend limiting dietary intake of added sugars, in part, by avoiding sugar-sweetened beverages because of their known association with poor health outcomes, including weight gain, type 2 diabetes, hypertension, and cardiovascular diseases.
Consumption of certain beverages may pose risk for kidney health, but previous studies have been inconsistent. To provide more clarity on the matter, Casey M. Rebholz, Department of Epidemiology, Johns Hopkins Bloomberg School of Public Health, Baltimore, Maryland, and colleagues comprehensively evaluated all types of beverages in association with CKD risk to better inform dietary guidelines.
This involved prospective analysis of 3003 African-American men and women with normal kidney function who were enrolled in the Jackson Heart Study. The investigators assessed beverage intake through a food frequency questionnaire administered at the start of the study in 2000-04, and they followed participants until 2009-13.
Also Read: American Heart Association warns kids against consumption of diet beverages
Key Findings:


Among 3003 participants, 185 (6%) developed incident CKD over a median follow-up of 8 years.


After adjustment for confounding factors, consuming a beverage pattern consisting of soda, sweetened fruit drinks, and water was associated with a higher risk of developing CKD.


Participants in the top tertile for consumption of this beverage pattern were 61% more likely to develop CKD than those in the bottom tertile.


Also Read: Diet beverages reduce risk of colon cancer recurrence
The researchers were surprised to see that water was a component of this beverage pattern that was linked with a higher risk of CKD. They noted that study participants may have reported their consumption of a wide variety of types of water, including flavoured and sweetened water. Unfortunately, the investigators did not collect information about specific brands or types of bottled water in the Jackson Heart Study.
"Further research is necessary to comprehensively assess all types of beverages in association with kidney disease risk. Identifying kidney protective beverages could inform United States dietary guidelines as well as clinical guidelines for kidney disease prevention," concluded the study authors.
For further reference follow the link:
https://doi.org/10.2215/CJN.06380518