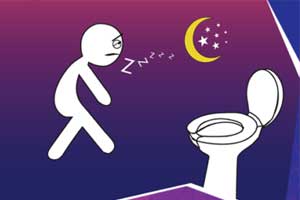 A new study published in the journal European Urology Focus has reported that clinical benefit was observed with desmopressin ODT in patients with nocturnal polyuria (NP).
Nocturia has been undertreated and overlooked in spite of being the most prevalent and bothersome symptom of the lower urinary tract.
Read Also: Nocdurna for treating Nocturia due to Nocturnal Polyuria
Jeffrey Weiss and associates conducted a study to assess the clinical benefit of desmopressin orally disintegrating tablet (ODT) in women (25 μg) and men (50 μg) with nocturia due to nocturnal polyuria.
In this study, the authors performed a post hoc analysis from two randomized clinical trials, on an NP subpopulation. The study recruited patients with NP  in men (CS41) and women (CS40) with two or more nocturnal voids per night. The trial treated patients with behavior therapies (bladder emptying before bed and fluid restriction) along with desmopressin (oral dissolving tablet [ODT] with gender-specific dosing) vs placebo.
The investigators found that demographics and baseline characteristics of patients in CS41 (N=230) and CS40 (N=232) were similar. A greater reduction in the mean number of nocturnal voids was seen with desmopressin ODT in men compared with women. For 33% and 50% responder status, treatment difference (TD) with ODT versus placebo were 21% and 12%, respectively, in men, and 12% and 17%, respectively, in women. For the number of nights with at most one void, TDs were 11% and 13% for men and women, respectively. For a complete response, TD was significant in men.
Read Also: Sublingual desmopressin now available for nocturnal polyuria
Although these statistically significant improvements are modest, when it comes to nocturia, even small improvements may have a significant clinical effect. the authors suggested the need to establish a minimal clinically important difference in nocturia, which would ultimately help us evaluate treatments for this common condition.
The study concluded that there was a stronger treatment effect with desmopressin ODT versus placebo and the magnitude of differences are indicative of clinical benefit in patients with NP.
For full information log on to https://doi.org/10.1016/j.euf.2018.11.001