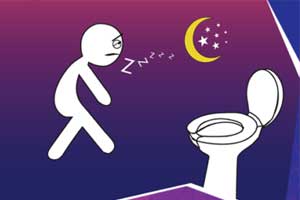 The U.S  Food and Drug Administration (FDA) approved the first sublingual tablet Nocdurna (desmopressin acetate) for the treatment of nocturia due to nocturnal polyuria (NP) in adults who awaken at least 2 times per night to void, announced Ferring pharmaceuticals.
Nocdurna, a vasopressin analog, stimulates vasopressin 2 (V2) receptors, thereby increasing water reabsorption in the kidneys, and reducing urine production.
Read Also: Desmopressin-Treatment for Nocturnal Polyuria Launched
The drug bagged the approval based on data from 3 double-blind, placebo-controlled, multicenter, randomized trials plus 1 open-label extension trial of up to 3 years in 220 patients aged ≥18 years.
Nocdurna has specific sex-based dosing: women are prescribed 27.7mcg daily whereas men are prescribed 55.3mcg daily; it should be taken 1 hour before bedtime without water.
Nocdurna is contraindicated in patients at increased risk of severe hyponatremia, such as patients with excessive fluid intake, illnesses that can cause fluid or electrolyte imbalances, and in those using loop diuretics or systemic or inhaled glucocorticoids.
"The effects of nocturia are often discounted; however, many people don't realize the impact that two or more nocturia episodes a night can have by disrupting sleep and causing people to wake up frequently," stated Jeffrey P. Weiss, MD, FACS, Professor, and Chairman of Urology."The availability of NOCDURNA provides US healthcare providers with an effective treatment option to address the underlying cause of nocturnal polyuria and help their patients reduce the number of times they get up each night to urinate."
Nocturnal polyuria is a disease of the kidneys marked by the insufficient production of the hormone called nocturnal vasopressin. Nocturnal polyuria is present in up to 88% of nocturia patients.  Nocturnal polyuria can exist alone, or it can be commonly found in patients with overactive bladder (OAB) or benign prostatic hyperplasia (BPH).