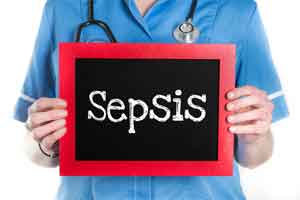 Corticosteroids possibly result in a small reduction in mortality as well as increase the risk of neuromuscular weakness in critically ill patients with sepsis, according to a study recently published in the journal Critical Care Medicine.
Rochwerg B and his associates conducted a systematic review and meta-analysis to address the efficacy and safety of corticosteroids in critically ill patients with sepsis and have found these results.
Sepsis is a potentially life-threatening complication of an infection. Sepsis occurs when chemicals released into the bloodstream to fight the infection trigger inflammatory responses throughout the body.
The authors extracted the data from MEDLINE, EMBASE, CENTRAL, and LILACS for randomized controlled trials that compared any corticosteroid to placebo or no corticosteroid in critically ill children and adults with sepsis. Forty-two randomized controlled trials including 10,194 patients for the study.
The meta-analysis showed  that:
Benefits with corticosteroid vs comparator:

Long-term mortality: RR, 0.94 (moderate certainty)
1-month mortality: relative risk (RR), 0.93; absolute risk reduction, 1.8% (4.1% reduction to 0.8% increase; low certainty)
ICU LOS: mean difference (MD), −0.73 days (moderate certainty);
Sequential Organ Failure Assessment scores: MD, −1.39 points (high certainty)
Shock reversal: RR, 1.26 (high certainty)

Disadvantages:

Neuromuscular weakness: RR, 1.21 (low certainty)
Hypernatremia: RR, 1.64 (moderate certainty)
Hyperglycemia: RR, 1.16 (moderate certainty)
Read Also:PIRO score accurately predicts mortality in surgical patients with Sepsis
According to the authors, the studies were highly heterogeneous and it is unclear if hyperglycemia and natremia led to patient-important outcomes.
The authors concluded that if steroids do have an effect on mortality, that effect is small and steroid treatment likely confers other benefits, including reduced ICU length of stay (LOS).
For more reference log on to
DOI: 10.1097/CCM.0000000000003262.PMID: 29979221