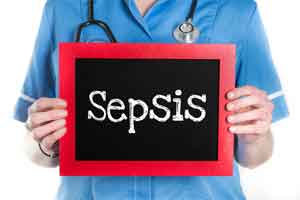 A PIRO-based model can be used to accurately predict mortality in surgical patients with severe intra-abdominal sepsis or septic shock, reports a study published in the American Journal of Critical Care.
Mortality in patients with intra-abdominal sepsis is very high and it is a challenging job to recognize and classify patients with sepsis. Majority of critical care specialists find the existing definitions confusing and not clinically useful.
The PIRO model is designed to improve the classification of patients across different degrees of illness severity, similar to how cancer is sorted into stages to describe its severity. PIRO scores have been developed for patients with severe sepsis, ventilator-associated pneumonia, and other conditions, but this study is the first to evaluate the usefulness of a PIRO score for surgically related intra-abdominal sepsis.
Juan G. Posadas-Calleja and his colleagues conducted a study to assess the usefulness of the predisposition, infection/injury, response, organ dysfunction (PIRO) concept in surgical intensive care patients with severe sepsis or septic shock due to an intra-abdominal source.
The researchers retrospectively reviewed a data of 905 patients from a prospective observational cohort. The study found that among 905 patients, overall mortality was 21.3%, but patients with septic shock had a mortality of 40.6%.
A PIRO score was developed that included the following variables: age greater than 65 years; comorbid conditions; leukopenia; hypothermia; and cardiovascular, renal, respiratory, and central nervous system failure. One point was given for each feature detected.
They found that the resulting PIRO score was a more accurate indicator of mortality for these patients than existing, more data-intensive tools such as the Acute Physiology and Chronic Health Evaluation II and the Sequential Organ Failure Assessment.
Sepsis, severe sepsis, and septic shock are important causes of admission to and mortality in the intensive care unit (ICU). The estimated incidence of sepsis is 2.4 to 4 cases per 1000.
"Our score is based on eight independent variables associated with mortality, data that is easily obtained at the bedside," said co-author Juan G. Posadas-Calleja, MD, MSc, clinical associate professor, whose master's thesis served as the impetus for the study. "Healthcare providers may be able to accurately and quickly predict mortality risk in surgical ICU patients by using a small card with our PIRO rating scale."
Read Also: Managing Sepsis with hypovolemia: Expert Statement
On a scale of 0-8, the mean PIRO score for all patients in the study was 2.9, with higher mean scores for nonsurvivors (3.9) than for survivors (2.3). In addition, mortality increased as the PIRO score increased.
The authors concluded that the study is the first to show that a PIRO-based model can be used to predict ICU mortality in a heterogeneous population of patients with sepsis due to intra-abdominal causes.
For more reference log on to http://ajcc.aacnjournals.org/content/27/4/287.full?sid=900da32c-8fc0-4008-8a33-049de8ce59de#ref-11