Spironolactone - a new treatment option for acne in women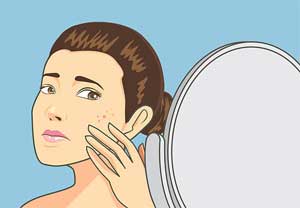 The diuretic drug spironolactone may be just as effective as antibiotics for the treatment of women's acne, according to a study published in the Journal of Drugs and Dermatology. Long-term oral antibiotic use in acne may be associated with a variety of adverse effects including antibiotic resistance, pharyngitis, inflammatory bowel disease, and breast and colon cancer but spironolactone may prove to be an effective and safe alternative to oral antibiotics for women with moderate to severe acne.
Spironolactone, marketed under the name Aldactone, is currently approved to treat high blood pressure, heart failure, and conditions that cause people to retain fluid. It blocks the effects of male hormones like androgen, meaning it's not an option to treat acne in men. However, those same anti-hormonal effects can help prevent acne outbreaks in women. As a result, some dermatologists use it to treat female acne patients.
Data of 6,684 women and girls taking spironolactone to 31,614 who were prescribed antibiotics were compared by the researchers. Within a year, 14.4 percent of spironolactone patients and 13.4 percent of antibiotic patients had switched to alternative treatments, suggesting each treatment was working at almost the same rate, despite the fact that tetracycline-class antibiotics are prescribed five times as frequently.
It's clear that a safe alternative to oral antibiotics could have a huge benefit, and our data show spironolactone may be that alternative," said the study's lead author John S. Barbieri, MD, MBA, Dermatology.
The study found that spironolactone may have a better safety profile than oral antibiotics and is less expensive which may be beneficial to patients in terms of both efficacy and economically.
The study concluded that based on the observation of similar switching between the two groups, spironolactone may have similar clinical effectiveness to that of oral tetracycline-class antibiotics.
Source : With inputs from Journal of Drugs and Dermatology