Cannabis smoking may lower diabetes risk in obese individuals: study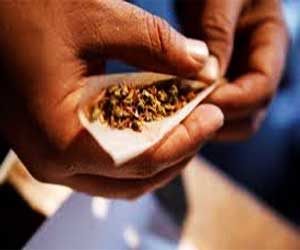 Smoking cannabis may lower fasting insulin, blood sugar and diabetes risk in obese individuals finds a new study.
Smoking cannabis (marijuana) four times a month significantly lowers fasting insulin levels in obese adults at risk for type 2 diabetes compared to the people who did not use cannabis, suggests a recent study. Also, the adults who frequently used cannabis in the past had lower fasting insulin levels.
The study, published in the Journal of Diabetes indicates the benefit of cannabis for obese individuals who are more likely to have insulin resistance (IR) that can precede type 2 diabetes.
Insulin resistance is the condition where the cells do not respond normally to Insulin and needs excess amount of insulin to maintain the healthy blood sugar levels in the body, a task which earlier required lesser amount of insulin
Previous studies have demonstrated the role of cannabinoid substances in improving blood sugar control as well as several other health benefits. However, limited population studies on marijuana use with markers of IR have yielded mixed results.
Fasting insulin is a measure used for the assessment of diabetic sensitivity. A high fasting insulin level indicates insulin resistance leading to type 2 diabetes.
Gerard Ngueta, and Ruth Ndjaboue from Laval University, Quebec, Quebec, Canada, set out to examine the association of marijuana use with IR in US adults with different body mass index (BMI) status.
The study included a total of 129,509 people with type 2 diabetes aged between 18 and 59. Of those, 32.7% were classed as overweight and 32.6% were obese. The data was extracted from Data from the 2009 to 2016 National Health and Nutrition Examination Survey (NHANES).
The association of marijuana use with both fasting insulin (FINS) and homeostasis model assessment of insulin resistance (HOMA‐IR) was determined in lean, overweight, and obese individuals separately using generalized linear models.
Also Read: Nabiximols effectively reduce illicit cannabis use in patients with cannabis dependence: JAMA
Key findings of the study include:


In current obese marijuana consumers, median fasting insulin in those with less than four uses per month was 52% lower than in never users.


In former obese consumers with eight or more uses per month and who stopped marijuana use <12 months ago, median fasting insulin was 47 lower than in never users.


Median fasting insulin in those who quit marijuana 12 to 119 and 120 months and more prior to the survey was 36% and 36% lower, respectively.


Also Read: Compared to traditional cannabis, Synthetic cannabinoids more likely to cause seizures, coma in kids
The researchers concluded that Marijuana use is associated with lower FINS and HOMA‐IR in obese but not non‐obese adults, even at low frequency of less than four uses per month. Former marijuana consumers with high lifetime use had significantly lower FINS levels that persisted, independent of the duration of time since last use.
One should, however, be cautious of the cannabis use because although the drug has some health benefits there are some health risks as well. Some previous studies, for instance, have indicated that cannabis smoking can increase the risk of certain cancers, notably lung cancer.
Research to date currently shows cannabidiol (CBD), a substance derived from cannabis, to have similar benefits as cannabis and with a good safety profile.
However, if one is considering taking these supplements, it is advisable to take a doctor's opinion as supplements such as cannabidiol can interact with certain diabetes medications.
To read the complete study log on to https://doi.org/10.1111/1753-0407.12958