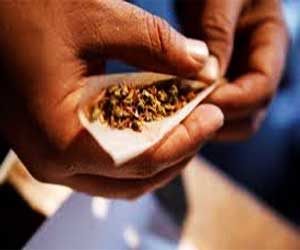 Australia: Cannabinoid agonist treatment (nabiximols in this study) combined with psychosocial services safely and effectively reduced illicit cannabis use in patients with cannabis dependence who are seeking treatment, finds a recent study published in the journal JAMA Internal Medicine. 
"This is a promising treatment, particularly for those who sustained reductions in illicit cannabis use with counselling-only interventions, in a stepped care approach," write the researchers.
Cannabis accounts for the largest number of people dependent on illicit drugs globally and is the most widely used psychoactive substance apart from tobacco and alcohol. Cannabis dependence may lead to a range of psychiatric, physical and cognitive health problems.
Existing treatments for cannabis dependence is unsatisfactory. About 80% of patients relapse to regular use within 1 to 6 months of the treatment (cannabis withdrawal or counselling eg. cognitive behavioural therapy [CBT] interventions). The use of cannabinoid agonist pharmacotherapies, akin to opioid or nicotine replacement treatment is a promising approach.
Nicholas Lintzeris, Drug and Alcohol Services, South East Sydney Local Health District, Sydney, New South Wales, Australia, and colleagues examined the safety and efficacy of nabiximols (cannabinoid agonist treatment) in the treatment of patients with cannabis dependence.
For this 12-week, multisite outpatient study, they recruited 128 participants from four outpatient specialist alcohol and drug treatment services in New South Wales, Australia in this parallel double-blind randomized clinical trial comparing nabiximols (a combination of tetrahydrocannabinol and cannabidiol) vs placebo. Participants had used a mean (SD) of 2.3 (2.1) g of cannabis on a mean (SD) of 25.7 (4.5) days in the past 28 days
The primary outcome was the self-reported number of days using illicit cannabis during the 12-week period. Other outcomes included alternate cannabis use parameters (periods of abstinence, withdrawal, cravings, and problems), safety parameters (adverse events and aberrant medication use), health status, other substance use, and treatment retention.
Also Read: Compared to traditional cannabis, Synthetic cannabinoids more likely to cause seizures, coma in kids
Key findings of the study include:
Treatment retention was comparable for the 2 groups (placebo, 30 of 67 participants [44.8%]; nabiximols, 30 of 61 participants [49.2%]), and both groups used similar mean (SD) doses (placebo, 18.5 [9.5] sprays daily; nabiximols, 17.6 [9.5] sprays daily, equivalent to a mean [SD] of 47.5 [25.7] mg of tetrahydrocannabinol and 44.0 [23.8] mg of cannabidiol).
For the primary endpoint, the placebo group reported significantly more days using cannabis during the 12 weeks (mean [SD], 53.1 [33.0] days) than the nabiximols group (mean [SD], 35.0 [32.4] days).
Both groups showed comparable improvements in health status, with no substantial changes in other substance use.
The medication was well tolerated with few adverse events.
Also Read: Long term cannabis use linked to higher psychosis risk: Lancet
"Although further research is required to replicate our findings and to refine how cannabinoid agonist treatment is delivered, our study suggests cannabinoid agonist treatment to be a promising approach for treating patients with cannabis dependence, particularly for those who cannot sustain reductions in illicit cannabis use with counselling-only interventions, in a stepped care approach," concluded the authors.
To read the complete study follow the link: doi:10.1001/jamainternmed.2019.1993