Single episode of diabetic ketoacidosis retards brain growth in kids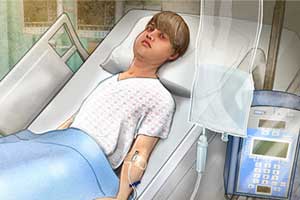 A single episode of moderate/severe diabetic ketoacidosis (DKA) in young children at diagnosis is associated with lower cognitive scores and altered brain growth, according to a study published in the journal Diabetes Care.
Tandy Aye and associates conducted a study to examine whether a history of diabetic ketoacidosis (DKA) is associated with changes in longitudinal cognitive and brain development in young children with type 1 diabetes.
Read Also: A case of Euglycemic diabetic ketoacidosis caused by dapagliflozin
The researchers analyzed cognitive and brain imaging data from 144 children with type 1 diabetes, ages 4 to <10 years, who participated in an observational study of the Diabetes Research in Children Network (DirecNet). Participants were grouped according to the history of DKA severity (none/mild or moderate/severe). Each participant had unsedated MRI scans and cognitive testing at baseline and 18 months.
The investigators found that in 48 of 51 subjects, the DKA event occurred at the time of onset, at an average of 2.9 years before study entry. The moderate/severe DKA group gained more total and regional white and gray matter volume over the observed 18 months compared with the none/mild group.
Read Also: IV fluid not a cause for brain injuries in pediatric diabetic ketoacidosis
When matched by age at time of enrollment and average HbA1c during the 18-month interval, participants who had a history of moderate/severe DKA compared with none/mild DKA were observed to have significantly lower Full Scale Intelligence Quotient scores, cognitive performance on the Detectability and Commission subtests of the Conners' Continuous Performance Test II, and the Dot Locations subtest of the Children's Memory Scale.
The authors concluded that even a single episode of moderate/severe DKA can affect cognitive function and brain growth in children. They suggest further studies to identify strategies to prevent long-term effects of DKA in young patients with type 1 diabetes.
For full information log on to
https://doi.org/10.2337/dc18-1405
Source : With inputs from the journal Diabetes Care