Oral antibiotics after initial IV therapy good enough in perforated appendicitis in kids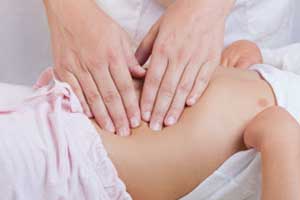 China: Sequential therapy consisting of a course of certain intravenous (IV) antibiotics followed by the use of oral antibiotics postoperatively is non-inferior to IV antibiotic therapy in appendicitis patients, suggests a recent study published in the journal BMC Pediatrics. The findings discard the proposal that sequential IV/PO therapy might do away the complications of IV medications and decrease the cost.
Appendicitis is widespread among children and young people, accounting for 15–50% of cases of pediatric appendicitis. The condition is the most common cause of emergency abdominal surgery in the world. Perforated appendicitis in children is generally managed by appendectomy following a course of antibiotic treatment. Nevertheless, there is not a consensus regarding specific antibiotic regimen, treatment duration and administration route in such patients. Because of the long duration of treatment, peripherally inserted central catheters (PICCs) and intravenous (IV) lines are widely used for administering antibiotics. A PICC line, although more convenient than an IV line as it can be used after patients are discharged from the hospital, still has many of the same disadvantages as an IV line. The disadvantages include activity restrictions, mechanical complications, risk of infections and painful insertion.
Yi Ji, West China Hospital of Sichuan University, Chengdu, China, and colleagues conducted this meta-analysis to determine whether sequential IV/PO antibiotic therapy is equivalent to IV antibiotic therapy.
Read Also: Antibiotics therapy really works in uncomplicated appendicitis : JAMA
The researchers searched the online databases to look for studies that compared outcomes in patients with perforated appendicitis receiving sequential IV/PO and PO antibiotics therapy. Five controlled studies including a total of 580 patients were evaluated.
The pooled estimates revealed that sequential IV/PO antibiotic therapy did not increase complications risk with a risk ratio of 0.97 for postoperative abscess, 1.04 for wound infection and 0.62 for readmission.
Read Also: What Treatment for Appendicitis Would Most Patients Choose, Surgery or Antibiotics?
"Our study demonstrates that sequential IV/PO antibiotic therapy is equivalent to IV antibiotic therapy regarding postoperative abscess, wound infection and readmission. Further studies should be conducted to confirm this conclusion and the optimal timing for conversion," concluded the authors.
The study, "Intravenous versus intravenous/oral antibiotics for perforated appendicitis in pediatric patients: a systematic review and meta-analysis," is published in the journal BMC Pediatrics.
DOI: 10.1186/s12887-019-1799-6
Journal Information: BMC Pediatrics
Source : BMC Pediatrics