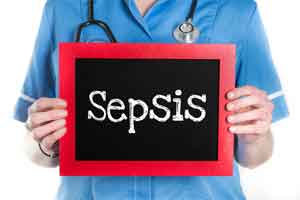 Sepsis linked to increased risk of 15 cancers in elderly adults as well as associated with 9 cancers >5 years post-sepsis diagnosis, according to a recent study published in the journal Clinical Infectious Diseases.
Liu Z and his associates conducted a study to find out the association between sepsis and subsequent risk of cancer.
The researchers conducted a case-control which included 1,801,156 cases with a first cancer diagnosis in SEER during 1992-2013 (ages 66-115 years) and 200,000 cancer-free controls from a 5% random sample of Medicare beneficiaries. Sepsis was identified using inpatient Medicare claims. The Surveillance, Epidemiology, and End Results (SEER)-Medicare is a cancer surveillance program of the National Cancer Institute with information on demographics and tumor characteristics from 18 cancer registries covering approximately 28% of the US population.
Read Also: New PIRO score accurately predicts mortality in surgical patients with Sepsis
The study found that:
1,801,156 patients and 200,000 control patients with sepsis prevalence of 4.0% vs 3.7%, respectively.
Positive associations: colon (minimally aOR [maOR]=1.12), rectum (maOR=1.13), liver (maOR=1.47), lung (maOR=1.17), cervical (maOR=1.52) cancers.
Associations without established infection links: acute myeloid leukemia (maOR=1.19), chronic myeloid leukemia (maOR=1.54), myelodysplastic syndrome (maOR=1.30).
Inverse associations observed for: breast (0.86), prostate (0.75), kidney (0.90), thyroid (0.68), melanoma (0.83), diffuse large-cell B lymphoma (0.89), follicular lymphoma (0.65).
Stratified analysis linked sepsis to 9 cancers (thyroid, prostate, colon, rectum, lung, liver, follicular, lymphoma, melanoma, acute myeloid leukemia) >5 years post-sepsis diagnosis.
The study concluded that sepsis is associated with increased or decreased risks for a certain group of cancers. Factors which explain these associations include etiologic effects of bacterial infections, inflammation, or use of antibiotics. Other associations may reflect the presence of precursor conditions (like cirrhosis, colorectal polyps) or patterns in ascertainment of cancer and screening.
Sepsis is a potentially life-threatening complication of an infection. Sepsis occurs when chemicals released into the bloodstream to fight the infection trigger inflammatory responses throughout the body.
For more reference log on to https://doi.org/10.1093/cid/ciy530